Nearly 50,000 People Have Cast Ballots in Georgia Runoffs After Not Voting in November
Georgians turned out in record numbers to cast their votes in the November general election and it's possible there could be even more ballots cast in the two Senate runoff elections.
As of Tuesday, 49,249 people who didn't vote in November had already cast ballots in the January 5 runoffs, according to the U.S. Election Project, including 31,000 who voted in the past week. Democrats and Republicans have a vested interest in the outcome of the elections, as it will determine control of the Senate, and in what's expected to be a close race, every vote matters.
About 5 million people cast votes in Georgia's Senate election in November, and in the five weeks between Election Day and the end of the voter registration period, organizations and groups worked to increase the number of people who could cast ballots. Any registered voter, regardless of their participation in the November election, is able to vote in the runoff and the U.S. Elections Project reported there are 2,633,057 registered voters who didn't vote in November.
So, it's possible that more people could vote in January than cast ballots in the general election.
Democrats have a slim edge over Republicans with newly registered voters, as the 70,000 new voters split for Democrats 44 to 41 percent, NBC News reported. It's only a small advantage, though, and if Republicans are able to increase voter turnout among those who were registered but didn't vote in November, the margin could easily shrink.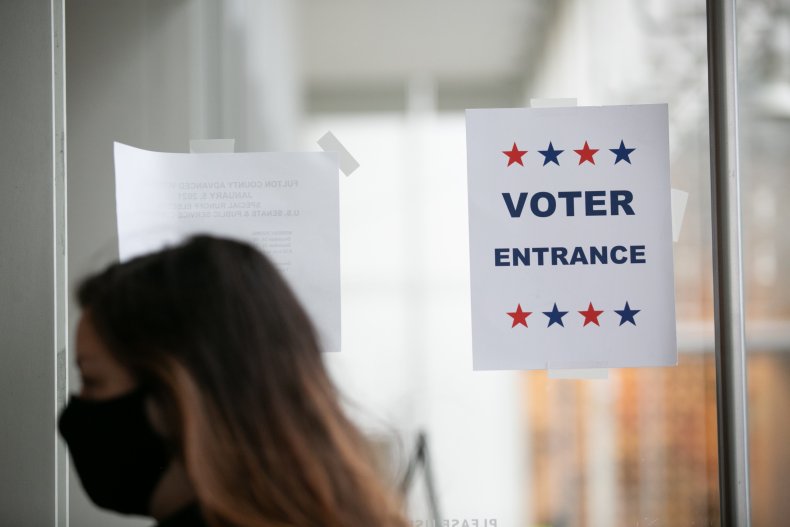 To better accommodate people during the pandemic, Georgia expanded opportunities to vote in-person and polls opened on December 14. Voters will have until January 1 to cast an early ballot in person and as of Tuesday, more than 1 million people cast their ballot at a polling place and a total of 1.6 million votes were cast when including returned mail-in ballots.
If Democrats are able to pull out victories in both of the Senate runoff elections, it'll create a 50-50 split in the Senate. This effectively gives Democrats, who have a majority in the House, control of both chambers of Congress because, in the event of a tie, Vice President-elect Kamala Harris will cast the deciding vote.
In an ad for Raphael Warnock and Jon Ossoff, the two Democratic candidates, President-elect Joe Biden told voters it would be advantageous to passing more COVID-19 relief if Democrats controlled the Senate in January.
"I need Raphael Warnock and Jon Ossoff in the United States Senate to get this done," Biden said. "There are folks in Congress threatening to do everything in their power to block our efforts."
Vice President Mike Pence also sees the Senate elections as a necessary victory and while in Georgia, told voters that Senators Kelly Loeffler and David Perdue were vital to stopping the "radical left" from pushing through their agenda.
Pence also tried to fight against calls for people to boycott the runoff election because of their disappointment in November, but it may not be enough to convince voters to get to the polls. President Donald Trump continues to push the message that the 2020 election was "stolen" from him because of fraudulent votes cast and a recent poll found the main reason those who are "very conservative" aren't voting is that "the voting process is rigged."
A poll of 691 voters conducted by SurveyUSA for WXIA-TV found 12 percent of voters aren't sure if they will vote or have decided they won't. Republicans are more likely to sit out of the election than Democrats, and if those who weren't voting in the election were to cast their ballots, they'd break for Loeffler and Perdue.
There are still two weeks until the election and pollsters note that anything can happen and with Republicans continuing to send big names to Georgia to stump for Loeffler and Perdue, they may be able to increase their voter turnout. Democrats are making a strong push for Georgia, as well, so it'll likely be a fight to the very end for each vote.