Around 50,000 Ukrainians have safely evacuated through humanitarian corridors during a temporary ceasefire agreed to by Russia, according to Ukraine's Interfax news agency.
The 12-hour corridors aimed to allow civilians to escape from Sumy in the northeast, Mariupol and Enerhodar in the south, Volnovakha in the southeast, Izium in the east, and several cities on the outskirts of Kyiv, including Irpin, Bucha and Hostomel.
"In the past 24 hours alone we added to our database another 48,543 requests from peaceful citizens of Ukraine and foreigners with requests for evacuation to Russia," said Mikhail Mizintsev, the head of Russia's National Defense Control Center. "In total, the database now contains 2,589,910 [such requests] from people in 1,917 Ukrainian settlements."
"To the Ukrainian authorities' claim that there were no people wanting to leave through humanitarian corridors for Russia, we openly state: this is a lie and blatant provocation," Mizintsev continued.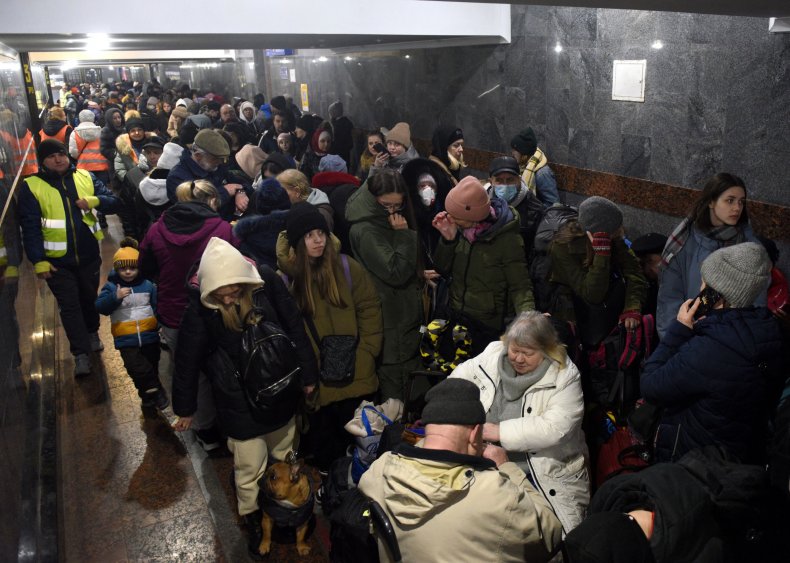 Mizintsev says a total of 180,000 people, including 45,436 children, have fled from the combat zones into Russia over the past 24 hours.
Although tens of thousands have managed to escape, Ukraine officials claim Russia is still holding many citizens hostage.
"Regrettably, the thoroughly thought-out operation to open humanitarian corridors and to evacuate civilians and foreign citizens currently in conditions of a humanitarian catastrophe did not yield the expected results today through the fault of the Kyiv authorities," Mizintsev said.
Ukrainian Foreign Minister Dmytro Kuleba tweeted on Wednesday that nearly 400,000 people are being held hostage in Mariupol due to Russia's blocking of the humanitarian corridor.
"Russia continues holding hostage over 400.000 people in Mariupol, blocks humanitarian aid and evacuation," Kuleba said. "Indiscriminate shelling continues. Almost 3.000 newborn babies lack medicine and food. I urge the world to act! Force Russia to stop its barbaric war on civilians and babies!"
Russia reportedly disrupted humanitarian escape corridors established around the cities of Mariupol and Sumy, according to the U.K. Ministry of Defence.
The initially planned ceasefire and opening of humanitarian corridors was to occur in Kyiv, Chernihiv, Sumy and Mariupol Tuesday morning at 10 a.m. Moscow time. However, this is the third consecutive day Russian forces have broken their own proposed ceasefire.
Ukraine's Ministry of Foreign Affairs said it worried that civilians in Russian-controlled territory might be taken hostage or used as "human shields" by Russia's military once evacuated.
Newsweek reached out to the Ministry of Foreign Affairs of Ukraine for additional comment.