Nearly 50,000 Voters in One Ohio County to Get New Absentee Ballots After Receiving Incorrect Ones
Almost 50,000 voters in Franklin County, Ohio, are expected to get new absentee ballots after previously receiving "inaccurate" ones.
"The board of elections and vendor BlueCrest determined that 49,669 voters received an inaccurate ballot," the Franklin County Board of Elections wrote in a press release on Friday. "Those ballots were part of 237,498 mailed through the United States Postal Service. The Board's primary goal is to have all 49,669 impacted voters cast their correct ballots."
According to the statement, the board said that the process of printing, stuffing and mailing the replacement ballots is already underway, and they are expected to be sent to the Postal Service within 72 hours for delivery. The board is also distributing "informational postcards to all impacted voters that detail the situation and highlight the voter's multiple voting options moving forward."
The board also outlined a number of "stringent tracking measures" to assure that voters can only vote once, which include redundancies built into the board's voting system ensuring every voter is only allotted one ballot; a sorting system that won't accept replacement ballots for someone who has already voted in person; "nightly runs" to vet incoming ballots against earlier votes casted earlier; and only allowing Election Day voters to cast their ballots "provisionally" if they have an active absentee ballot.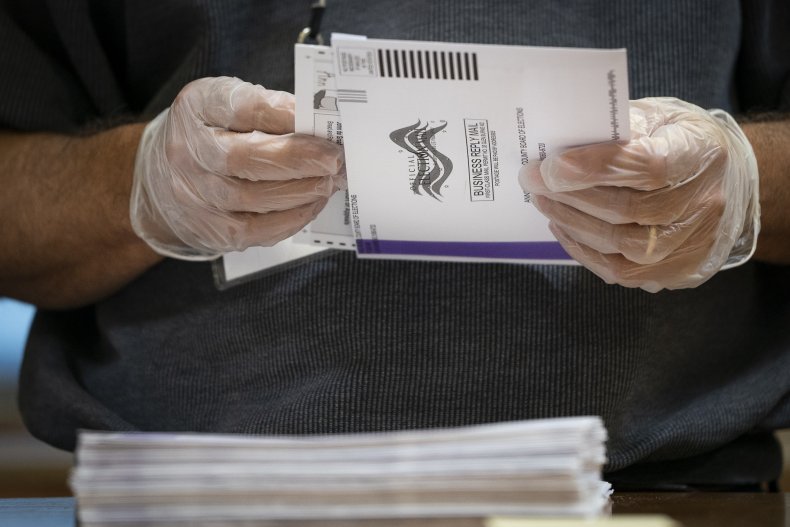 Prior to Friday's announcement, the Franklin County Board of Elections issued two similar releases on Tuesday and Wednesday stating it was conducting analysis on all absentee ballots sent out—after it was made aware that some voters "were mailed the incorrect ballot for the voters assigned address."
"It was determined that a high-speed scanner used to proof ballots for accuracy was not working properly," the board said in a release on Tuesday. "The board is researching when the error occurred to determine the number of impacted voters."
The announcement made on Tuesday prompted Ohio Secretary of State Frank LaRose to send a directive to the board, urging that the mistake in the absentee ballots be fixed.
According to WCHM-TV, LaRose told the board that before it issues replacement ballots, it must inform the people who received the incorrect ballots to not use them for voting.
"System checks are in place to make sure mistakes like the one made by the Franklin County Board of Elections don't happen – but they only work if the board properly executes those checks," said Maggie Sheehan, spokesperson for LaRose, in a statement, according to WOSU Radio in Ohio. "When we became aware of the issue, we immediately notified the Franklin County Board of Elections and they began work to mitigate the issue with impacted voters."
Newsweek reached out to the Franklin County Board of Elections and LaRose for comment, but did not receive a response in time for publication.