A majority of Americans support preventing former President Donald Trump from holding federal office again, according to polling data released Monday by Monmouth University.
The House impeached Trump in January for his alleged role in inciting a deadly riot at the U.S. Capitol building. The article of impeachment is expected to be delivered to the Senate on Monday evening. Trump is the only U.S. president that has been impeached twice. If he is convicted in the Senate impeachment trial, which is expected to take place in February, Trump would be prohibited from holding federal office in the future.
In the Monmouth University poll, 57 percent of participants were in favor of blocking Trump from holding office again, while 41 percent of those polled opposed keeping Trump out of office. Two percent of respondents were undecided about the issue.
Only 19 percent of Republicans polled said they were in favor of barring Trump from taking federal office again, while 90 percent of Democrats said they supported the idea. Republicans opposed the concept by 78 percent.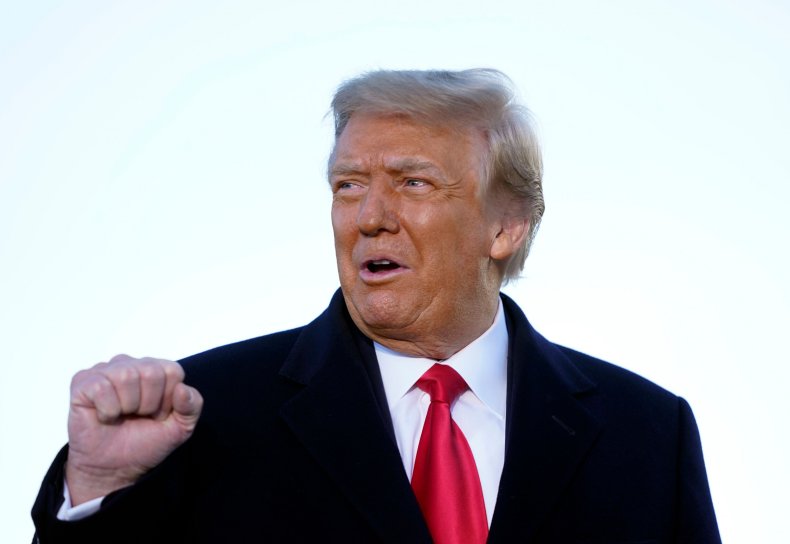 The Monmouth University poll was conducted via phone from a pool of 809 U.S. adults and carried a margin of error of plus or minus 3.5 percentage points.
Many directed responsibility for the January Capitol riot at Trump and his repeated baseless claims that voter fraud caused him to lose the presidential election. On the day of the riot, Trump delivered remarks at a D.C. "Stop the Steal" rally, which some lawmakers said helped create the atmosphere for the riot.
"We fight like hell," Trump told the rally crowd, "and if you don't fight like hell, you're not going to have a country anymore." Some rally attendees then walked to the Capitol building where Congress was certifying the Electoral College win of President Joe Biden. Members of a mob breached the Capitol, forcing lawmakers to go into hiding. Five individuals died in connection with the riot, including one Capitol police officer.
Trump's Senate trial is expected to be overseen by Democratic Vermont Senator Patrick Leahy, who serves as president pro tempore of the Senate. Supreme Court Justice John Roberts declined to oversee the proceedings.
Democrats and Republicans hold a 50-50 split in the Senate. However, Democrat Vice President Kamala Harris also serves as President of the Senate. If Harris is called on to resolve deadlocked votes in the Senate, she is expected to side with her Democratic colleagues. In order for Trump to be convicted, two-thirds of the Senate must vote in favor of impeachment.
Whether Senate Republicans will have enough voting power to acquit Trump is unknown. On Monday, Republican Ohio Senator Rob Portman announced he would not seek reelection in 2022. Portman voted against Trump's first impeachment in 2020.
In a Monday statement, Portman said his decision was partly based on the difficulty in breaking "through partisan gridlock" and making "progress on substantive policy."
"This is a tough time to be in public service," Portman added.
When contacted by Newsweek for comment, Portman's office said a statement made by Portman on January 13 "still stands."
"If the Senate proceeds with an impeachment trial," Portman said, "I will do my duty as a juror and listen to the cases presented by both sides."