Nearly 60 Percent of Americans Disapprove of Donald's Trump's Handling of Race Relations, Poll Says
Almost one in six Americans disapprove of the way President Donald Trump handles race relations, according to a new poll.
The poll, which was conducted by CBS News/SSRS, surveyed 1,309 U.S. adults from May 29 to June 2. The poll has a margin of error of plus or minus 3.1 percentage points.
According to the poll, 58 percent of Americans said they disapprove of the way Trump is handling race relations, compared to 33 percent that said they approve. The remaining 9 percent said they didn't know.
When the same question was broken down by political party affiliations, the findings changed drastically. The poll shows that Republicans have a much higher approval rating for Trump's handling of race relations, with 72 percent saying they approve and 17 percent saying the opposite.
On the other hand, Democrats stood on the other end of the spectrum, with 92 percent saying they disapprove compared to just 4 percent that approved.
The poll's findings come as states across the nation have experienced mass protests and riots following the death of George Floyd, a 46-year-old black man who died May 25 following his arrest by officers from the Minneapolis Police Department. Floyd was held down by three of the officers making the arrest, while the fourth, Derek Chauvin, knelt on Floyd's neck. In multiple videos, Floyd can be heard saying that he cannot breathe.
Following a week of protests, some of which turned violent and resulting in looting and buildings being set on fire, Trump said he could invoke the 1807 Insurrection Act to send in members of the U.S. military to help patrol and control protests. The comments drew immediate backlash from some, Defense Secretary Mark Esper, who said on Wednesday that he didn't support invoking the act.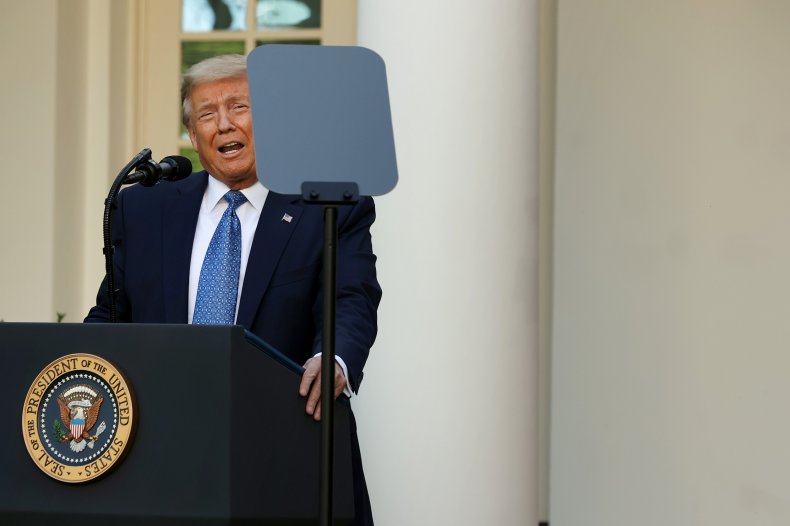 A separate poll, conducted by Monmouth University, found similar results for Americans' views on Trump and race relations. This poll asked respondents how much confidence they have in Trump's ability to handle race relations where 50 percent said they had no confidence at all, 10 percent said not much, 18 percent said they had some and 22 percent said they had a great deal. This poll surveyed 807 U.S. adults from May 28 to June 1 and has a margin of error of plus or minus 3.6 percentage points.
The CBS News/SSRS poll also found that many Americans feel that race relations in the U.S. are generally bad and are getting worse. According to the poll, 61 percent of Americans think race relations are generally bad, while 35 percent said the opposite.
Additionally, 42 percent of respondents said that race relations in the U.S. are getting worse, compared to 17 percent that said they were getting better and 39 percent who said they are staying the same.
Newsweek reached out to Trump's re-election campaign for comment on the poll's findings but did not receive a response in time for publication.