Nearly 60 Percent of San Antonio Coronavirus Cases Diagnosed In June
Nearly 60 percent of all coronavirus cases reported in San Antonio, Texas, have come since the start of June.
According to the city's department of health, there are currently at least 7,156 confirmed cases across San Antonio, with more than 4,200 coming in June alone. On June 21, the city saw its largest single-day increase, with 538 reported cases. The city has also seen over 400 cases reported each day on June 16, June 18 and June 19.
In addition to the increase in cases in San Antonio, there has also been a surge in the number of hospitalizations due to the novel coronavirus. According to the city's department of health, on June 22, there were 446 coronavirus hospitalizations, an increase of 40 from the previous day. The number of hospitalizations reported on Monday more than doubled the number from a week prior, when there were 187 reported COVID-19 hospitalizations on June 15.
The city also reported a single-day decrease in both the number of COVID-19 patients placed in the ICU and on ventilators.
"Our hospitalization rates are increasing but capacity is still available," Michelle Vigil, public relations manager for the San Antonio Metropolitan Health District wrote in an email to Newsweek.
According to the ExpressNews, San Antonio Mayor Ron Nirenberg said that the increase in numbers is "not good."
"We're not close at all to meeting our goal of seeing a sustained decline in cases over the next two weeks. The increase will continue unless we work together to contain the virus," Nirenberg added. "More people will end up in critical condition if proper action is not taken to prevent the spread of this disease from devastating our communities, our health and our livelihood."
Bexar County, where San Antonio is located, has also seen the percentage of positive coronavirus tests increase over the past few weeks. According to the county's department of health, from June 14 to June 20, the percent of positive tests was 16.9, an increase of 7.6 percent from the previous week.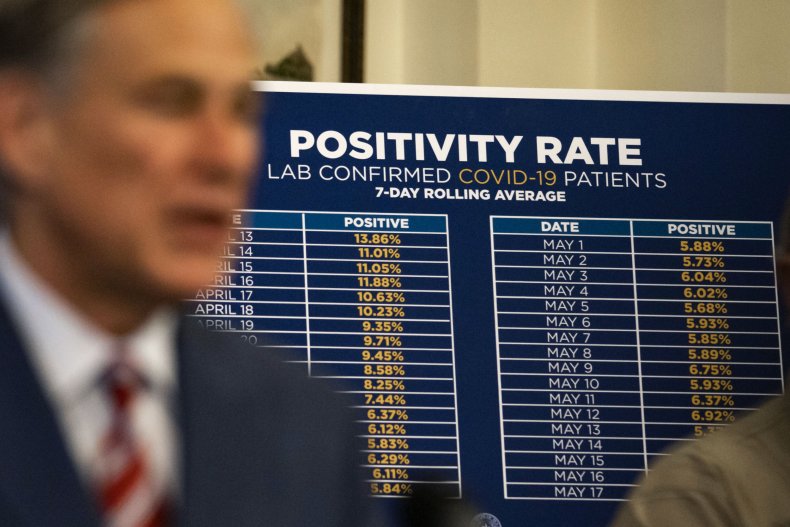 Across Texas, the number of coronavirus cases also continues to rise, as the state recently saw its largest single-day increase on June 20, with 4,430 newly reported cases, according to the Texas Department of Health. The state has also seen over 3,000 cases in each of the days since June 17. On Tuesday, the state reported 5,000 cases, a new high.
Hospitalizations are also on the rise across Texas, as the state reported the highest number since the pandemic began on Tuesday, with 3,711.
The new coronavirus, which causes the respiratory disease COVID-19, continues to spread across the U.S. According to a tracker provided by Johns Hopkins University, there are currently over 2.3 million cases in the U.S., as well as 120,771 deaths.