Nearly 70% of Female Biden Voters Say Harris Being on the Ticket Was Factor in Decision: Poll
President Joe Biden's choice of Kamala Harris as his running mate in the 2020 election resonated with women across the U.S.
According to a report released Tuesday by Gender on the Ballot, a nonpartisan project to examine gender dynamics in politics, 68 percent of women who supported Biden last November said Harris being on the ticket was a factor in their voting decision.
For those women polled who supported former President Donald Trump, 39 percent said Harris being on the ballot was a factor in their voting decision.
Biden announced his selection of Harris, a former primary rival and a senator from California, to be his vice president in August 2020—three months before the general election. At the time, Biden praised Harris as "a fearless fighter for the little guy and one of the country's finest public servants." Harris said that she believed Biden was the candidate who could unify the country.
Harris, the daughter of an Indian mother and Jamaican father, made history as the first woman, and person of color, to be elected as vice president. In her victory speech, she spoke of her mother and the generations of women who paved the way.
"While I may be the first woman in this office, I will not be the last," Harris said. "Because every little girl watching tonight sees that this is a country of possibilities."
A majority (64 percent) of women polled by Gender on the Ballot expressed excitement about having a woman vice president for the first time in history. Democrats and women of color were the most excited, at 89 percent and 79 percent, respectively. Thirty percent of Republican women said it was an exciting moment.
When asked if there were too few or too many women in office, a majority of respondents (55 percent) said there were too few women serving as elected politicians.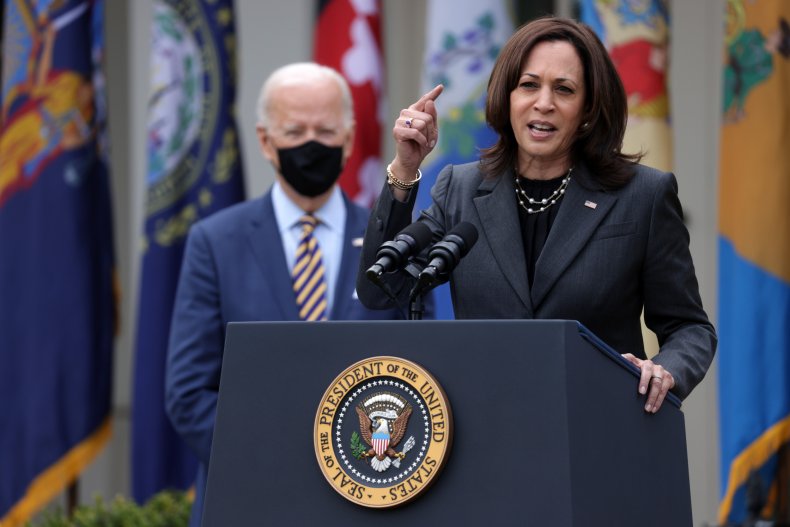 This week, Harris and Biden are hitting the road to promote their $1.9 trillion coronavirus relief plan. The package—which includes $1,400 stimulus checks, expanded unemployment benefits, funding for school reopenings and coronavirus vaccine programs—was passed by Congress and signed by the president last week.
The so-called Help Is Here tour began with Harris visiting a vaccination site and culinary academy in Las Vegas on Monday.
"This is supposed to be the job of your government, which is when you're suffering, when you need a helping hand, when you need a little assistance to just get over a moment of crisis you didn't create," Harris said. "That's when leaders are supposed to kick in to say, 'I'm here, I see you and I will help you.'"
Gender on the Ballot conducted 809 online interviews between February 24 and March 1 among women who voted in the presidential election and are likely to vote in the 2022 midterms. The poll's margin of error is plus or minus 3.5 percentage points.