Nearly 70 Percent of Americans Disapprove of Trump's Handling of George Floyd's Death, New Poll Shows
Close to 70 percent of Americans said they disapprove of the way President Donald Trump is handling the death of George Floyd, according to a new poll.
The poll, which was conducted by ABC News/Ipsos, surveyed 706 adults from June 3 to 4 and found that 66 percent disapprove of Trump's handling of Floyd's death, while 32 percent said they approved. The remaining 2 percent skipped the question. The survey's margin of error was plus or minus 4.3 percentage points.
The poll's findings come as protesters have taken to the streets in many states demanding an end to police brutality against black Americans. Floyd died on May 25 after being held down by Minneapolis police officers. One of them, Derek Chauvin, knelt on his neck, and in multiple videos of the arrest, Floyd can be heard repeatedly saying he could not breathe. He lost consciousness and died shortly afterward.
Trump has faced a backlash to his response to Floyd's death and the ongoing demonstrations. After protesters damaged and looted areas across Minneapolis, Trump responded by tweeting, "These THUGS are dishonoring the memory of George Floyd."
During a recent press briefing, Trump also suggested that he would invoke the Insurrection Act, which would allow him to deploy military troops to states that he thinks can't contain the protests. Following his suggestion, he faced opposition from several governors from such states as New York, Texas and Michigan, as well as Defense Secretary Mark Esper, who said he did not support invoking the act.
Additionally, Trump was recently accused of allowing tear gas to be used to disperse protesters near the White House before he went across the street for what has been called a photo op at a church. Trump and his administration have denied these accusations, but according to The Washington Post, the U.S. Park Police acknowledged using "pepper balls" and "smoke canisters" to clear out the demonstrators.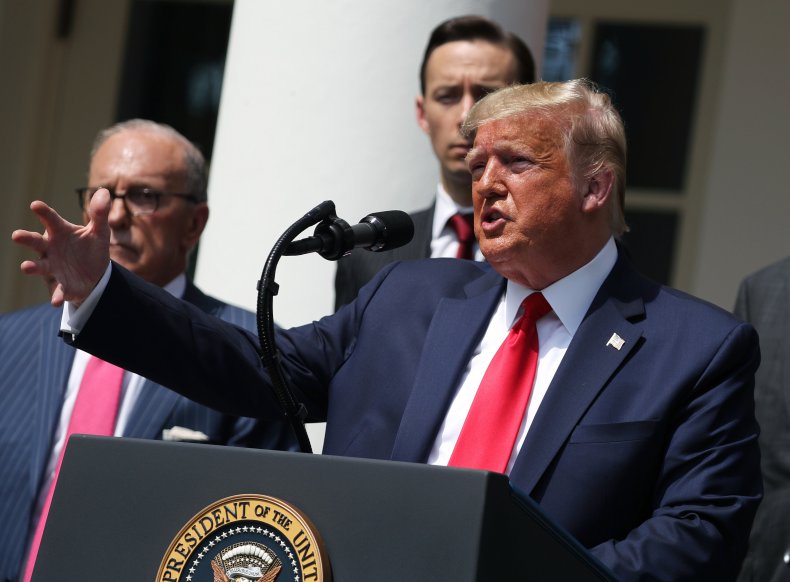 Other recent polls have also found a high disapproval rating for Trump's handling of Floyd's death and race relations in the U.S.
A poll conducted by Emerson College surveyed 1,431 adults from June 2 to 3 and found that 47 percent disapproved of Trump's response to Floyd's death, while 36 percent said they approved. The survey had a margin of error of plus or minus 2.5 percentage points.
Another poll, conducted by CBS News/SSRS, found that 58 percent said they disapprove of Trump's handling of race relations. Thirty-three percent said they approved, and the remaining 9 percent said they didn't have an opinion. This poll surveyed 1,309 adults from May 29 to June 2 and had a margin of error of plus or minus 3.1 percentage points.
Newsweek reached out to the Trump campaign for comment on the ABC News/Ipsos poll's findings but did not receive a response before publication.