Nearly 70,000 Californians Without Power on Thanksgiving Amid High Winds
Thousands of people in Southern California woke up Thanksgiving morning without power as high wind conditions prompted power companies to order public safety shutoffs.
Shortly before 11 a.m. local time, electricity company Southern California Edison reported an estimated 63,835 of its customers were without power. That number included people in the Los Angeles, Orange, Riverside, San Bernardino and Ventura counties and represented about 1.3 percent of the company's total customers.
Further south, electricity company SDG&E reported an estimated 5,311 of its customers were without power in and around San Diego County.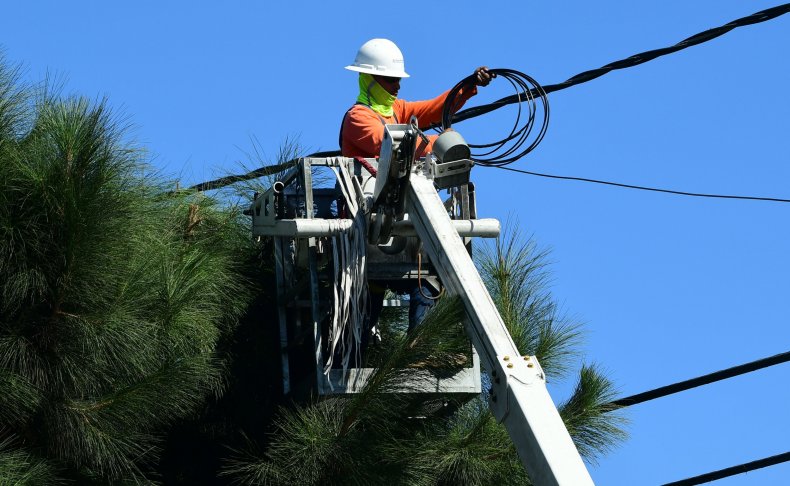 The power shutoffs were ordered as dry and windy Santa Ana conditions blew through the state. Strong wind conditions began moving into Southern California midday Wednesday and were expected to continue into Friday.
According to the National Weather Service (NWS), wind gusts were expected to reach speeds between 45 and 65 miles per hour on Thanksgiving before slowing overnight and steadily decreasing on Friday and Saturday. The NWS issued red flag warnings in the Southern California region in response to the warm, dry and windy conditions to alert residents of increased fire risk.
Southern California Edison noted on its public safety power shutoffs webpage that the company was considering cutting power to more than 150,000 of its customers. SDG&E estimated more than 47,000 of its customers could similarly see their power cut.
Southern California Edison explains on its website that public safety power shutoffs are initiated when "there are potentially dangerous weather conditions in fire-prone areas."
"During these events, we will proactively turn off power in high fire risk areas to reduce the threat of wildfires," the company says.
California's Thursday weather conditions were compounded by the state's ongoing drought, which last month Governor Gavin Newsom's office described as the worst drought the state has experienced since the late 1800s. Newsom declared a drought emergency in California earlier this year and has encouraged residents to conserve water amid the state's dry conditions.
A Southern California Edison spokesperson told Newsweek the drought combined with the current weather conditions present an elevated risk of fire danger that spurred the company to cut power to some of its residents as a precaution. It was difficult to predict when exactly the customers without power would see their power restored, but the spokesperson said workers were cognizant of the Thanksgiving holiday and aspired to restore power as soon as it was safe to do so. In the meantime, some customers are being shifted to adjacent power circuits that are not affected by the high wind conditions to limit the total number of impacted customers, the spokesperson added.
Southern California Edison reiterated the company's plans to restore power as conditions allowed in a Thursday morning post on social media.
"As Public Safety Power Shutoffs occur, we will attempt to restore power to customers as soon as it is safe to do so after the weather event ends, and after crews inspect the lines and determine it is safe to re-energize," the company tweeted.