A GoFundMe page has raised $787,356 in donations for a 9-year-old orphaned boy, the sole survivor of a hate crime that killed four other members of his family and garnered national attention in Canada.
Fayez Afzaal remains in stable condition at a hospital in London, Ontario after a driver plowed into his family during an evening walk on Sunday night. The attack resulted in the death of his parents, 46-year-old Salman Afzaal and 44-year-old Madiha Afzaal, his sister, 15-year-old Yumnah, and his 74-year-old grandmother.
"There is evidence that this was a planned, premeditated act motivated by hate. We believe the victims were targeted because of their Islamic faith," London Police Deputy Superintendent Paul Waight told reporters on Monday.
Sana Yasir, who is described as a "very close family friend" to the victims for the past 12 years, created the fundraiser four days ago as a form of sadaqa jariya, an important concept within Islam in which Muslims give to charity in memory of the deceased.
Yasir told Newsweek she's been shocked by how many people have contributed to the GoFundMe. She said while she started it locally for those in the London area who wanted to help, the campaign has since gone worldwide and has received donations from people living in the U.K., U.S. and Pakistan, among other places.
"It's crazy to think how much people are supporting this, even people who don't know the family or aren't event from London, they didn't even hesitate to donate," she said on Friday. "It truly means a lot."
"Especially seeing that non-Muslims are donating to this and sending messages of love and support that they're there for us, that really means a lot because it means people who are not Muslim recognize this as a hate crime," Yasir added. "The London community and every community all over the world is with us. They're standing with us against Islamophobia."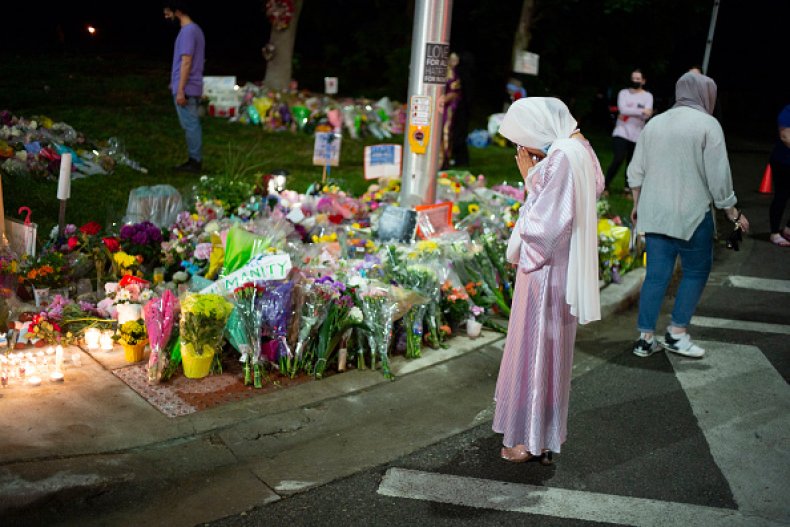 The Afzaal family has indicated that they are not in need of financial assistance for the funeral expenses but said the donations will go to helping Fayez in the future as well as other charity organizations, which immediate family members will choose at a later date. There will be an announcement once the decision is made.
"We understand that there is little we can do to ease the grief and trauma that Fayez and his extended family are going through, but we started this GoFundMe campaign to raise money so that the family can donate on behalf of the deceased," the fundraiser reads.
Yasir said local businesses have also partnered with the campaign and have donated their proceeds to the fundraiser. She said that two London locations of the multinational fast-food chain Tim Hortons have made custom donuts and have donated all the money from those items to the GoFundMe.
A second fundraiser created on LaunchGood has also raised more than $1,100 as of Friday afternoon. Both campaigns have received the support and consent of the victims' family and by the London Muslim community.
The suspect in the attack, 20-year-old Nathaniel Veltman, has been arrested and charged with four counts of first-degree murder and one count of attempted murder. He appeared briefly in court on Thursday and is expected back on June 14.
"Islamophobia is real and it happens everywhere," Yasir said. "We saw it in New Zealand and we said, 'No it doesn't happen here in London.' We saw it in Quebec and we said, 'No it doesn't happen here in London.' When it happens here at home, it's like wow, you're not safe. It can happen anywhere, to anyone."
The tragedy has garnered national attention, drawing statements of support from several public figures including Prime Minister Justin Trudeau, and marks the worst attack against Muslim Canadians since a man gunned down six members of a Quebec City mosque in 2017.