Nearly 90 Percent of Congressional Republicans Still Won't Say Who Won the Election: WaPo Study
A month after Joe Biden defeated President Donald Trump in this year's presidential election, only 25 of the 249 GOP members of the House and Senate have acknowledged the former vice president's win despite his more than 7 million-vote victory, according to a survey conducted by The Washington Post.
A team of reporters contacted aides for all congressional Republicans the morning of Trump's 46-minute video where he falsely claimed that he had won the presidency and continued his unsubstantiated claims that widespread fraud flipped the election to Biden.
The reporters asked three questions—(1) who won the presidential contest? (2) do you support or oppose Trump's continuing efforts to claim victory? (3) and if Biden wins a majority in the electoral college, will you accept him as the legitimately elected president?—while researching comments made by GOP members of Congress about the election results.
According to the survey, two Republicans said that they believe Trump won the election, while another 222 GOP lawmakers—nearly 90 percent—refused to answer the question.
Eight Republicans—just 3 percent—said that they support the president's efforts to claim victory in the election, including asking state legislatures to overturn results in states that he lost, and nine answered that they specifically oppose these efforts. Two GOP members also said that they wouldn't accept Biden as the legitimate winner of the election—while 30 said that they would if the former vice president wins a majority in the Electoral College.
Over 70 percent of Republicans didn't acknowledge the Post's questions as of Friday evening. Only 11 of the 52 GOP Senators acknowledge Biden's win, while 14 House Republicans recognize his victory. Interestingly, as the Post points out, six are retiring from politics at the end of this month, and two are in districts where Biden won without question.
The survey comes after a grueling month since Election Day, flooded with election misinformation and hostility towards election officials, workers and Republican lawmakers in swing states. While most GOP lawmakers have stayed relatively mum about Trump's loss in public, Biden told CNN's Jake Tapper on Thursday—without naming names—that "several" Republicans have congratulated him publicly on his win.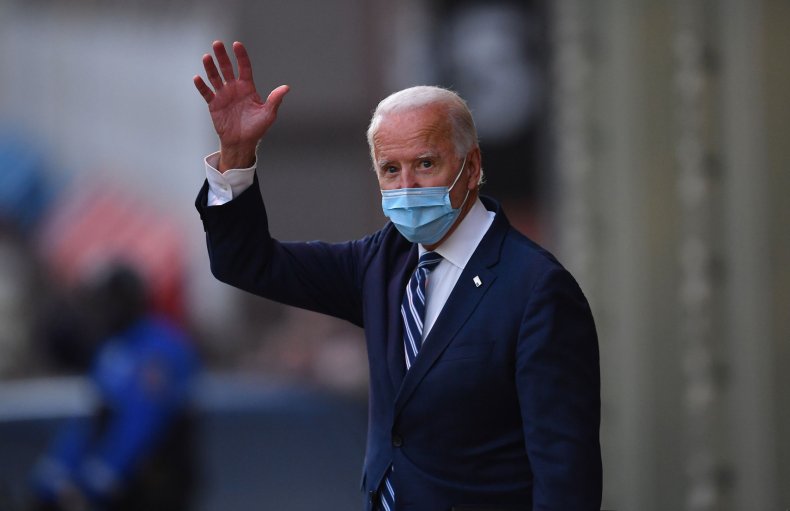 "There have been more than several sitting Republican senators privately called and congratulated," Biden said. "I understand the situation they find themselves in."
Pennsylvania Senator Patrick Toomey, a Republican, publicly acknowledged Biden's win in a statement on November 21, after a conservative federal judge scathingly dismissed a lawsuit by the Trump campaign challenging the results of the Pennsylvania election and gave a legal seal of approval to Biden's win in the state.
"Joe Biden won the 2020 election and will become the 46th President of the United States," Toomey said. "I congratulate President-elect Biden and Vice President-elect Kamala Harris on their victory."
Congressman Fred Upton of Michigan—who worked with Biden on the "Beau Biden Cancer Moonshot" proposal following the death of the former vice president's son— announced that he would work with the Biden administration just hours after his victory was announced on November 7. He stated that "we have to find a way to come together" and announced that he's "committing to work with President-elect Biden and my colleagues on both sides of the aisle."
In a news conference on Tuesday, Senate Majority Leader Mitch McConnell continued to dodge questions on election fraud and once again refused to explicitly acknowledge Biden's win, telling reporters, "the future will take care of itself."
However, his comments on a future COVID relief package next year was the closest he's come to recognizing the start of a new administration in 2021.
"I think we all know that after the first of the year, there's likely to be a discussion about some additional package of some size next year, depending upon what the new administration wants to pursue," he said.
Meanwhile, outliers like Congressmen Paul Gosar of Arizona and Mo Brooks of Alabama have publicly insisted Trump is the winner of the election. Gosar constantly discussed the unfounded claim that Dominion voting machines in Arizona, Georgia and other states manipulated the results to ensure a Biden win in those areas—despite evidence that the counties that used those machines voted overwhelmingly for Trump.
When asked by the Post if he'll accept Biden as the legitimate president, Gosar responded: "No, never. Too much evidence of fraud."
Republican Senator Roy Blunt of Missouri, chairman of the Senate Rules Committee, told CNN Sunday that the committee is working with the President-elect to plan the January 20 inauguration at the Capitol.
"We are working with the Biden administration, likely administration, on both the transition and the inauguration," Blunt said.