Nearly 9,000 Florida Children Diagnosed With Coronavirus in Two Weeks as Schools Reopen
The number of Florida children diagnosed with the coronavirus has increased by nearly 9,000 over the past two weeks as schools across the state begin to reopen.
There are currently 48,730 confirmed cases of the novel virus among children under 18, according to a recent pediatric report released by the Florida Department of Health. In a previous report released August 9, there were 39,735 confirmed cases among the same group, which marks an increase of 8,995 cases over the past two weeks.
Across the different age groups listed in the pediatric report, there are 17,311 confirmed cases among Florida children between 14 and 17, which constitute 36 percent of all cases in children. Children between 5 and 10 make up the next largest share, 27 percent, and the pediatric report shows 12,946 cases in this age group.
The report also shows an increase in the number of children hospitalized with COVID-19. According to the state's department of health, there were 436 hospitalizations of children on August 9, compared with 602 in the most recent report, marking an increase of 166 hospitalizations.
Newsweek subscription offers >
Across Florida, there are currently 605,502 confirmed cases and at least 10,580 deaths, according to the state health department.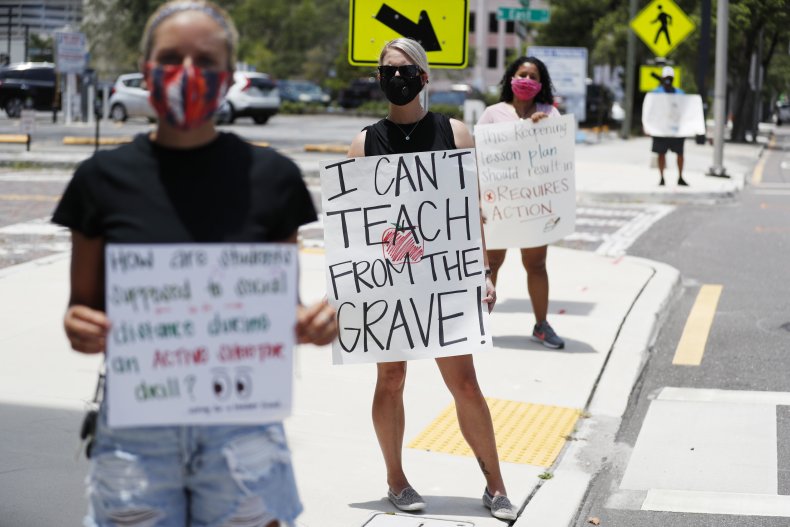 The increase in virus cases among Florida children comes as schools across the state begin to reopen. Because many have already reopened, the state health department released a report on Monday showing that more than 700 cases of the virus have been linked to K-12 schools and higher education institutions within the first two weeks of reopening.
In July, an emergency order issued by Florida Education Commissioner Richard Corcoran required all school districts to open "brick and mortar schools at least five days a week for all students." The order notes that the final decision to reopen schools will rest with local superintendents and school boards but suggests that funding for the school may depend on reopening.
Newsweek subscription offers >
Shortly after the order was issued, the Florida Education Association filed a lawsuit saying that the order defied recommendations from the U.S. Centers for Disease Control and Prevention on safely reopening schools. The lawsuit was filed against Corcoran, the Florida Board of Education, Florida Governor Ron DeSantis and Miami-Dade County Mayor Carlos Gimenez.
Following the lawsuit's filing, a Florida judge ruled on Monday in favor of the teachers union, saying that the order for schools to reopen violated the state's constitution.
"The districts have no meaningful alternative," Leon County Circuit Judge Charles Dodson wrote in his ruling. "If an individual school district chooses safety, that is, delaying the start of schools until it individually determines it is safe to do so for its county, it risks losing state funding, even though every student is being taught."
Newsweek reached out to the Florida Department of Health for comment but did not hear back in time for publication.
Nearly 9,000 Florida Children Diagnosed With Coronavirus in Two Weeks as Schools Reopen | U.S.