Nearly All Of Mexico's Gun Violence Is Committed With Illegal Firearms Coming From U.S., Officials Say
American and Mexican law enforcement officials say nearly all of the gun violence in Mexico is fueled by the illicit import and sale of U.S. firearms.
The underground trade of weapons to Mexico is worth hundreds of millions of dollars annually—with American guns used to kill tens of thousands of Mexicans each year.
In addition to weapons from the States working better, Mexico cartels view firearms as status symbols, retired DEA agent Jack Riley told The San Diego Union-Tribune: "It is really important to these criminal organizations, who stay in business by the threat of violence and through the use of violence; and the tools that they prefer to do that with are American-made guns."
Tijuana's Director of Public Safety, Marco Antonio Sotomayor, says most of the guns flowing into his city come from north of the border.
"There's no way for people to buy guns like these in Mexico. They're American-made guns," Sotomayor told the Union-Tribune. "We know they're being illegally trafficked through California into Tijuana."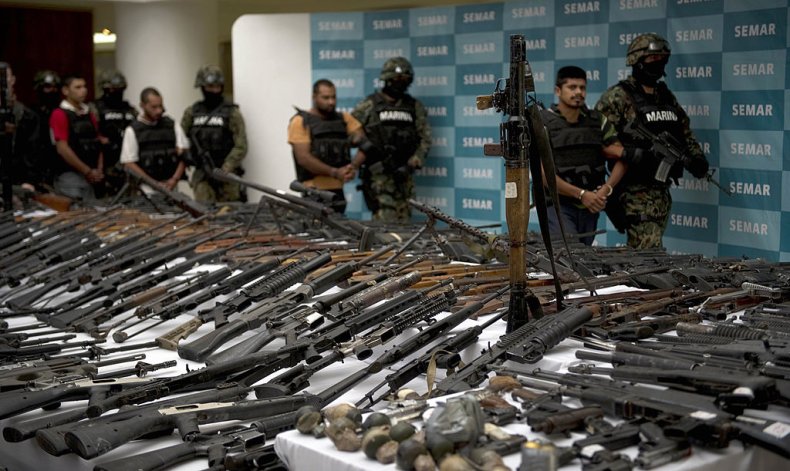 In 2018, the homicide rate in Mexico hit a record high of 35,964, spiking 12 percent from the year before, according to the country's National Institute of Statistics and Geography. Of those murders, at least 20,005 were carried out with guns.
The homicide rate is continuing to rise this year, raising concerns for the Mexican President Andrés Manuel López Obrador, who took office in December. In the wake of last weekend's mass shootings in Dayton, Ohio and El Paso, Texas—where eight Mexican citizens were among those killed—López Obrador urged the U.S. to take serious steps to curb gun violence.
"We think that these unfortunate events in the U.S. should prompt reflection, analysis and the decision to control the indiscriminate sale of guns," the Mexican president said at a press conference Monday. López Obrador has previously stated that Washington's relatively lax stance toward firearms has allowed the illicit sale of U.S. guns to flourish in his country.
While the right to bear arms is protected by the Mexican constitution, as it is in the U.S., there are much stricter regulations on the sale of firearms: For the most part, assault weapons are banned, as is anything more powerful than a .38 caliber gun. Guns can only be sold legally by the military—in the entire country, there is only one legal gun store, located in Mexico City.
Customers must undergo months of background checks to enter the Directorate of Arms and Munitions Sales on the outskirts of town. The government authorizes the sale and registration of only one handgun per owner for the purposes of "human defense."
But a February 2018 report from the Center for American Progress found that the problem of U.S. firearms goes beyond Mexico: between 2014 and 2016, more than 50,000 guns originating in the United States were recovered during criminal investigations in 15 countries in North America, Central America and the Caribbean.
"Put another way," the report added, "during this span, U.S.-sourced guns were used to commit crimes in nearby countries approximately once every 31 minutes."