Nearly Half of AAPI Women in New York City Have Been Called a Slur: Poll
Nearly half of New York City Asian American and Pacific Islander (AAPI) women said they have been called a racial slur, according to a recent study by MetroPlusHealth.
Reports of anti-Asian hate incidents have been on the rise over the last couple of years as the U.S. battled the coronavirus pandemic. Experts have linked the impacts of racist encounters with rising mental health concerns among adults and minors alike.
Though reports of anti-Asian hate crimes have been widespread, MetroPlusHealth's Luna Liu, the head of the New York City health insurance agency's AAPI segment, told Newsweek these numbers tend to be underreported.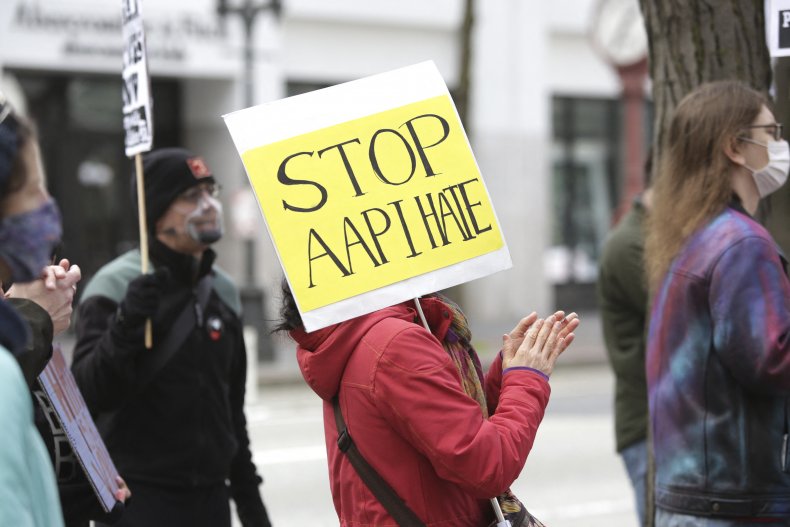 By The Numbers
She said the percentage of AAPI women in New York City who have been called a racial slur is likely higher than the 44 percent identified by the survey.
About 59 percent of AAPI women who participated in the survey said they were worried about walking along city streets, compared with about 40 percent of the general population, according to Liu.
This survey echoes the results of another done last May by the Associated Press-NORC Center for Public Affairs Research poll, which found more than half of Asian Americans said they "often" or "sometimes" felt like they were at risk while in public due to their race.
According to the national nonprofit Stop AAPI Hate:
More than 10,900 hate incidents were reported to the organization between March 2020 and late 2021.
The majority—about 61.8 percent—of those incidents were reported by women, a trend Stop AAPI Hate noted in another report it released earlier in 2021.
In addition, the Manhattan district attorney's office said in February that its hate crimes task force was processing a greater number of anti-Asian hate crimes than ever before.
Mental Health
Experts have linked the rise in anti-Asian violence to growing mental health concerns.
A report released last spring found "unprecedented mental health concerns" among members of the AAPI community amid the pandemic and the uptick in anti-Asian hate. The report was by Stop AAPI Hate, the Asian American Psychological Association and Brigham and Women's Hospital.
Despite recent attention on anti-Asian hate incidents, Liu said there should be more focus on the mental health struggles affecting many within the AAPI community.
"We don't want to focus too much on the hate. It's more about healing now. We want to go to the next stage," Liu said.
"Our goal is to let people know that, in addition to those victims being attacked, there are a majority of people who are also in need of help, and their mental health was being impacted significantly by what has happened in the past two years," she added.
The survey's findings regarding the pandemic's mental health impacts on AAPI women were also striking, with 64 percent of respondents saying the pandemic had a negative impact on them, compared with 48 percent of the general population.
The mental health impacts of the pandemic "will last much longer" than the pandemic itself, Liu said.
The survey also assessed feelings within the AAPI community about mental health treatment.
Among AAPI women respondents, 68 percent said they believe speaking with a mental health professional would "positively impact their lives."
But fewer than four in 10—about 35 percent—of AAPI respondents said they know of local mental health professionals who offer treatment in their preferred language, compared with 49 percent of respondents representing the city's general population.
Throughout the city, AAPI women "feel they have significantly less support and mental health resources than the average woman in the City," a Monday MetroPlusHealth release said. "The disparity between the high demand and poor availability of linguistically and culturally appropriate mental health service providers is a significant gap in accessing treatment."
But younger generations appear to be approaching mental health differently, the survey said. While Liu said recent interviews MetroPlusHealth has conducted with AAPI women found many did not speak with their doctors about mental health concerns, younger Generation Z women seemed to be "more aware" about mental health issues and "more willing" to discuss them than Generation X respondents.
Overall, Liu said the survey's results were "upsetting" but "not so surprising." She emphasized that her goal is to "direct the focus of our attention to the healing," rather than focus on statistics.
"For some people who have experienced something traumatic in their life, or they were being challenged by the anti-Asian hate crime, they should speak up," Liu said. "They should talk to their family doctor about their mental issues, in addition to their physical issues."
The survey released on Monday was conducted for MetroPlusHealth by research company Engine Insights between April 7 and 15. It gathered responses from 302 AAPI adult women living in New York City for one portion of the survey and from 505 other adults living in New York City who represented the general population, according to the Monday press release.