As investigators continue to make arrests in the January 6 attack at the U.S. Capitol, nearly half of Americans expect the criminal penalties brought against the rioters will be too lenient.
A new study released Thursday by the Pew Research Center found that 47 percent of U.S. adults expect those charged for their participation in the insurrection will receive criminal penalties that are less severe than they should be.
Just 22 percent of those surveyed said the penalties imposed on rioters will be "too severe" and 29 percent said they will be as severe as they should be.
Still, a large majority of Americans (69 percent) said it's "very important" for federal law enforcement agencies to find and prosecute individuals who broke into the Capitol. Another 18 percent of Americans said the tasks were "somewhat important" while 12 percent said it's not too or not at all important.
While most people in both the Democratic and Republican parties said it was at least somewhat important for authorities to identify and punish those involved in the January 6 attack, Democrats were more likely to say the issue was "very" important. Eighty-six percent of Democrats and independents who lean Democrat said so, compared with 50 percent of Republicans and GOP leaners.
So far, more than 300 people who participated in the Capitol breach have been arrested, according to the FBI. The bureau said Thursday that many arrests have been made with the help of hundreds of thousands of tips provided by the public.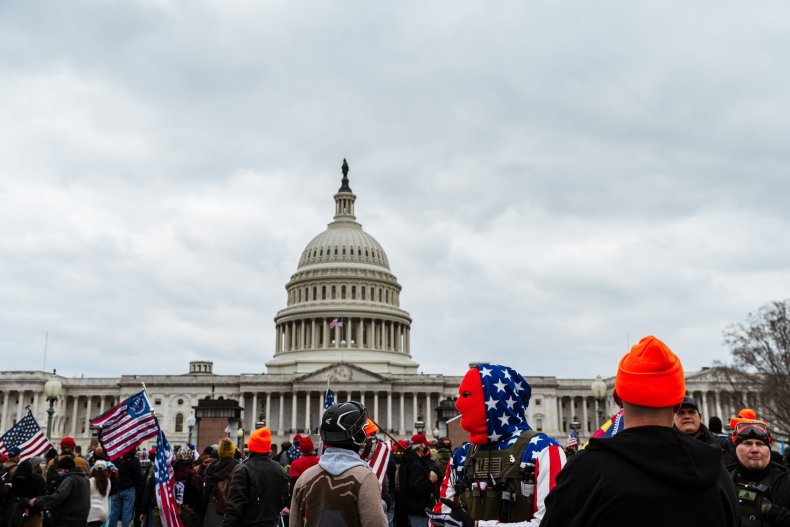 The FBI also released new footage of insurrectionists and has asked the public for help in identifying the individuals, who they described as "suspects in the most egregious assaults on federal officers during the riots."
Earlier this week, prosecutors charged two men with assaulting Capitol Police officer Brian Sicknick, who was one of five people killed during the violence on January 6. The court record alleged the two men worked together to spray law enforcement members with a toxic chemical.
A majority of Americans (69 percent) expressed a fair amount of confidence in federal law enforcement's ability to bring criminal penalties against those responsible for the violence at the Capitol. Just 20 percent, however, expressed a great deal of confidence.
On Wednesday, the House of Representatives voted 413 to 12 to award medals to all members of the Capitol Police and others who protected the area on January 6. The dozen of votes against the resolution all came from Republican members.
The Pew Research Center surveyed 12,055 U.S. adults between March 1 and March 7. The margin of error for the report's findings is plus or minus 1.5 percentage points.