Nearly Half of Americans Support Trump Running in 2024 As His Campaign Lawsuits Unravel: Poll
While President Donald Trump's legal efforts to remain in the White House appear to be failing, a poll released Monday indicates that more than half of Americans are in favor of Trump running for president again in 2024.
Trump has claimed victory in the 2020 election although many media outlets have projected a win for President-elect Joe Biden. Trump has thus far refused to concede the election and has filed lawsuits in some battleground states alleging widespread electoral manipulation. For the most part, those lawsuits have been dismissed by judges. Some observers believe that Trump could mount another presidential campaign in 2024. According to a Hill-HarrisX daily poll published Monday, many Americans think Trump should follow through with those alleged plans.
According to the poll, 47 percent of registered voters support Trump running again in 2024. Republicans comprised a majority of that number with 75 percent backing a second Trump campaign. While only 24 percent of Democrats supported the idea, 47 percent of Independent voters gave the idea their support.
Voters who did not support a second Trump presidential run numbered 53 percent. Most of those voters—76 percent—were Democrats. However, 25 percent of those who did not think Trump should run again were Republicans. A majority of Independent voters were also against the idea, with 53 percent saying they were in opposition to the idea.
The Hill-HarrisX poll was conducted November 17-19 from a pool of 1,873 registered voters and carried a margin of error of plus or minus 2.26 percentage points.
According to the U.S. Constitution, a president cannot serve any more than two terms of four years each. However, there is nothing in the constitution prohibiting an individual from serving non-consecutive terms as president. Former President Grover Cleveland served twice non-consecutively as the 22nd and 24th president, from 1885-1889 and 1893-1897.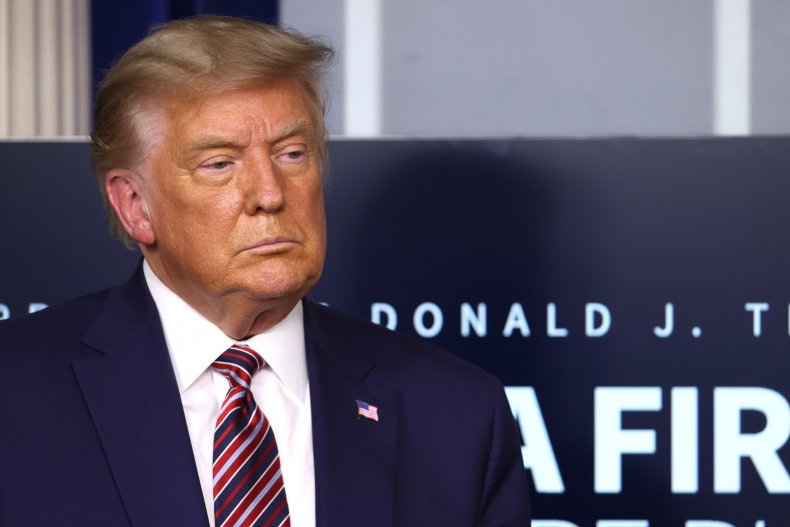 Trump's legal team has attempted to delegitimize the election results by claiming widespread voter fraud and election tampering. However, those allegations have widely been described as unsubstantiated. According to NBC News, at least 36 lawsuits have been filed by Republicans over the election results but roughly 24 have been unable to go forward.
In Pennsylvania, where Biden was projected to have won 50 percent of the vote to Trump's 48.8 percent, a federal judge dismissed a lawsuit from Trump's legal team on Saturday which sought to block the state's vote certification.
In his ruling, U.S. District Judge Matthew Brann compared the lawsuit to the Frankenstein monster, "haphazardly stitched together."
"Plaintiffs seek to remedy the denial of their votes by invalidating the votes of millions of others," Brann wrote. "Rather than requesting that their votes be counted, they seek to discredit scores of other votes, but only for one race. This is simply not how the Constitution works."
While the White House has not confirmed that Trump will run again in the next election, some observers believe it is a distinct possibility. Former acting White House Chief of Staff Mick Mulvaney said during a November interview that he "expected the president to stay involved in politics and would absolutely put him on the shortlist of people who are likely to run in 2024."
Newsweek reached out to Biden's transition team for comment.