Nearly Half of Brits Want Queen To Retire Because of Her Health: Poll
Queen Elizabeth II should retire due to health problems that caused her to cancel a succession of public visits, nearly half of Brits believe.
The monarch is preparing to celebrate her Platinum Jubilee, marking the 70th anniversary of her reign, in June and is aged 96.
There have been fears for her health due to what Buckingham Palace described as "episodic mobility problems," which 88 percent of Brits had heard at least something about, according to polling by Redfield & Wilton for Newsweek.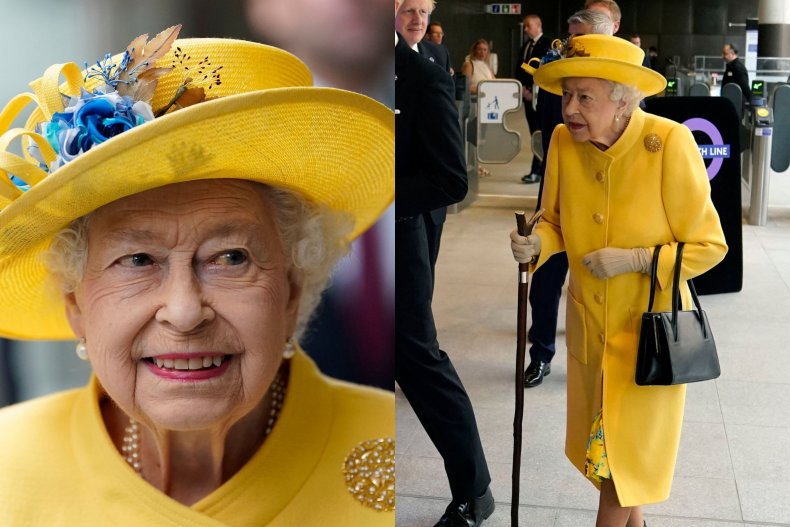 Forty-five percent of Brits felt Elizabeth should retire because of her age and health, while 37 percent felt she should not, according to the survey of 1,500 people conducted on May 18.
Of those aware of the problems, 51 percent said they seemed serious while 26 percent said they did not and 23 percent did not know.
The queen recently had to pull out of the State Opening of Parliament, a major event in her calendar which forms part of her official constitutional function as Britain's head of state.
A legal mechanism in The Regency Act had to be used to allow Prince Charles to stand in for his mother and read the Queen's Speech.
A Buckingham Palace spokesperson said on Monday, May 9: "The Queen continues to experience episodic mobility problems, and in consultation with her doctors has reluctantly decided that she will not attend the State Opening of Parliament tomorrow.
"At Her Majesty's request, and with the agreement of the relevant authorities, The Prince of Wales will read The Queen's speech on Her Majesty's behalf, with The Duke of Cambridge also in attendance."
However, things have been looking up since then with the queen attending both the Royal Windsor Horse Show, on May 15, and the opening of a new train line through London on May 17.
Elizabeth's arrival at Paddington Station was only confirmed at the last minute and she used a walking stick as she made her way to a plaque that she then unveiled.
However, the first week of June could be the busiest her calendar has been since twin health scares changed the nature of her role as sovereign in October and November 2021.
The Platinum Jubilee weekend will kick-off on Thursday, June 2, when it is hoped she will appear on the Buckingham Palace balcony at Trooping the Colour, her annual birthday parade.
There will be a Service of Thanksgiving in her honor at St. Paul's Cathedral, in London, on June 3, followed by the Epsom Derby, on Saturday, June 4.
The big finale though will be on June 5 when there will be a pageant made up of 10,000 people in the Mall outside Buckingham Palace.
In an ideal world, the palace would no doubt want her to attend events four days running, though it is yet to be seen whether her health will hold up.
For more royal news and commentary check out Newsweek's The Royal Report podcast: