Nearly Half of California Voters Disapprove of Governor Gavin Newsom: Poll
California voters were split nearly evenly on Governor Gavin Newsom in a recent poll, with 48 percent of the nearly 9,000 registered voters surveyed approving of his work while 47 percent disapproved.
The new poll offers a stark difference to the job approval mark of 64 percent in September of 2020 as the pandemic was spreading through the country.
The poll was conducted last week by the UC Berkeley Institute of Governmental Studies, and co-sponsored and reported by the Los Angeles Times.
About two-thirds of respondents said they approved of Newsom's handling of the COVID-19 pandemic, but decreasing case rates have allowed some to focus on other issues they might have a less positive perspective on, such as the homelessness crisis or rising crime rates, according to the poll.
About two-thirds of respondents said they felt the pandemic was improving locally, while 27 percent said the pandemic was getting worse.
Homelessness and crime were the only topics that received mostly negative responses, with 66 percent for homelessness and 51 percent for crime rating Newsom's performance as "poor or very poor," a 12 percent and 16 percent jump, respectively, from a similar poll in 2020, according to the poll released Friday.
However, last September's failed recall effort and the current lack of a popular Republican candidate to oppose Newsom could lead to his re-election in November, the Los Angeles Times reported.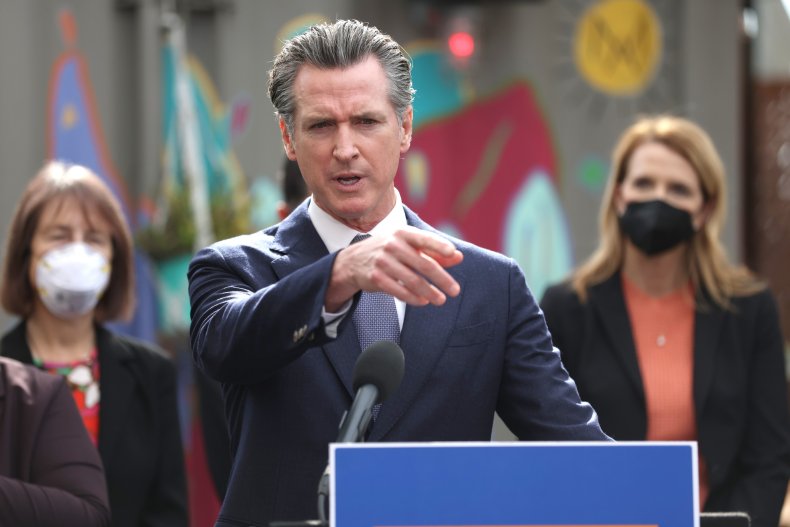 Fifty-four percent of the voters polled said they believe California is headed in a negative direction, with 36 percent saying it's headed in the right direction.
Democrats still mostly supported Newsom at 74 percent approval to 21 percent disapproval, while criticism from Republicans remained consistent at 90 percent disapproval compared to just 8 percent approval. Among the respondents who identified with another political party or no party in particular, Newsom received a job approval rating of 41 percent, with 51 percent disapproving.
The numbers are several percentage points worse than an IGS poll conducted in September that is listed as a comparison in the new poll report.
The approval ratings were also divided along racial lines, as a majority of white voters disapproved of his performance, while those who identified as Black, Latino and Asian American/Pacific Islander mostly supported Newsom, according to poll data.
"You see a lot of changing going on in the public's mind. I think they're focusing less on COVID, more on the other long-standing issues that the state has been facing," Mark DiCamillo, the director of the poll, told the Los Angeles Times. "The state has some major issues, and he's the governor. The buck stops there."
Newsweek reached out to Newsom's office for comment on the polling.
Update 2/15/22, 12:14 p.m.: This story has been updated with additional context and information from the new polling.