Nearly Half of Central American Asylum Seekers Say They Had a Relative Suffer 'Violent Death' in Last Two Years: MSF
A new study from Médecins Sans Frontières paints a harrowing picture of the circumstances many Central Americans seeking asylum in the U.S. face if they are forced to return home.
Titled No Way Out, the report describes how the majority of asylum seekers fleeing the Northern Triangle, which is comprised of Honduras, Guatemala and El Salvador, are fleeing due to fears of violence.
Of 480 asylum seekers and migrants surveyed by MSF, with nearly all interviewees being from the Northern Triangle, more than 60 percent said they had been exposed to a violent situation within the two years prior to their decision to leave their home country.
Almost half (42.5 percent) said a relative had been killed in a "violent death" within the last two years, with 16.2 percent saying they had a relative who had disappeared, while 9.2 percent said a relative of theirs had been kidnapped in their home country. Many fled because they feared the same might happen to them.
More than 35 percent said they had been threatened for extortion within the two years prior to leaving their home countries, while more than 26 percent said they had been victims of an assault and five percent said they had been victims of torture.
While the study sought to draw on migrants and asylum seekers' personal accounts, it also used medical data from more than 26,000 people helped along the migration route through Mexico during the first nine months of 2019.
The medical evidence, MSF said, clearly points to high levels of violence and ill-treatment suffered by migrants and refugees in their home countries, with the organization saying the high levels of violence in the Northern Triangle is "comparable to that in war zones where MSF has been working for decades."
"It's clear from years of medical data and testimonies that many of our patients are desperately fleeing violence back home," Sergio Martin, MSF's head of mission in Mexico, said in a statement shared with Newsweek.
However, Martin said, asylum seekers and migrants did not only face violence in their home countries; many also saw their lives endangered on the journey to the U.S. border, particularly while crossing through Mexico.
"These people deserve protection and care, and, at the very least, a fair chance to seek asylum," he said. "Instead they face more violence along the migration route."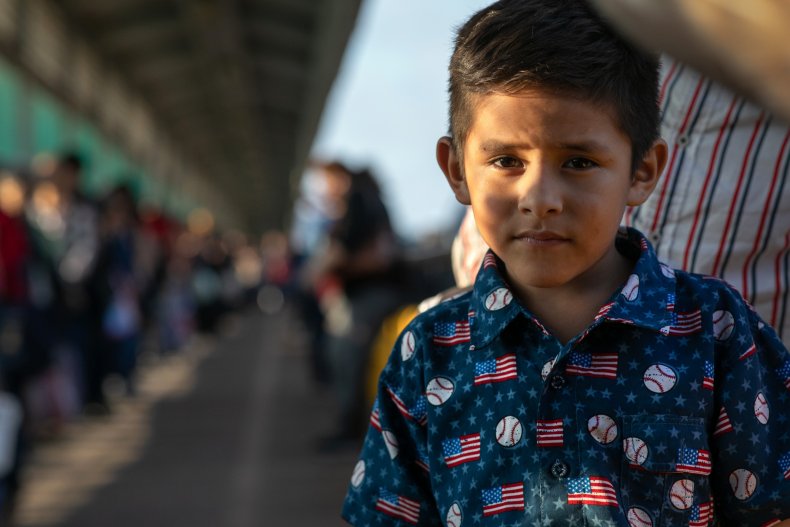 According to MSF's findings, nearly 60 percent of migrants and asylum seekers said they suffered violence along the migration route through Mexico, with 57.3 percent of those interviewed saying they were exposed to assault, extortion, sexual assault, torture and other forms of violence.
"During their transit through Mexico, 39.2 percent were violently attacked and 27.3 percent were threatened or extorted," the report claims. More than 5 percent said they had witnessed a death after entering Mexico, with more than 17 percent saying the cause of death had been murder.
Despite those numbers, "harsh deterrence policies introduced by the U.S. and Mexico in recent years have increased the dangers for migrants and asylum seekers," MSF has said.
The Trump administration's Remain In Mexico policy, which has forced tens of thousands of asylum seekers to wait in Mexico while their immigration cases in the U.S. are processed, has particularly put those fleeing violence back in harm's way, trapping them in a "vicious circle," the organization has warned.
"Time and again, people seeking safety are being treated like criminals—detained, deported, and often sent back to the same violent conditions that they were trying to escape," MSF says in its report. "Despite national and international legal obligations requiring states to protect people fleeing violence and persecution, the U.S. government has implemented a series of measures limiting access to asylum —including the [Remain In Mexico policy]."
"The violence to which Central American migrants and refugees are exposed, both in their own country and while in transit through Mexico, has a clear impact on their mental health," MSF has warned.
Of those treated in Mexico by MSF, 56 percent presented moderate (29 percent) or serious (27 percent) symptoms, according to the Clinical Global Impression scale, which is used to assess the severity of mental illness.
Ultimately, MSF said, migration policies "based on criminalization, deterrence and containment" do little to help migrants and asylum seekers and only prompt them to "choose increasingly dangerous options to get to the U.S."
"They often find themselves at the mercy of trafficking networks or exposed to recurring violence by the criminal groups that operate along the migration route. All of this has serious consequences for their physical and mental health," the report states.