Nearly Half of Florida's Coronavirus Deaths Happened in July, and the State's Still Breaking Case Records
In Florida, nearly half of the state's total number of deaths related to the novel coronavirus occurred in July, as cases and deaths continue to increase.
According to data from the Florida Department of Health, there have been at least 3,081 coronavirus-related deaths reported in the state this month, which accounts for approximately 46 percent of the state's total number of deaths, which currently stands at 6,586.
The state has continued to see an increasing number of deaths related to the novel virus and has reported a new record high number in each of the past three days, as 253 were reported Thursday, topping a previous high of 216 reported the day before. On Tuesday, the state reported 186 new deaths, which was the most since the start of the pandemic, at that time.
In addition to the rising number of deaths, Florida has also seen an increase in confirmed cases. On Wednesday, the state's department of health reported 9,943 newly confirmed cases, the third straight day of case counts exceeding 9,000. There are currently at least 461,379 confirmed cases in total across the state.
According to a daily testing positivity tracker, published by Johns Hopkins University, across Florida, nearly 1 in every 5 tests for the novel virus have come back positive, as the tracker shows the state having a testing positivity rate of 19.4 percent, based on a seven-day moving average.
The state also recently surpassed New York in total number of confirmed cases, but still trails behind California, which has the most confirmed cases of any U.S. state. For a majority of the ongoing pandemic in the U.S. New York remained the state with the most confirmed cases, until recently being passed by both Florida and California.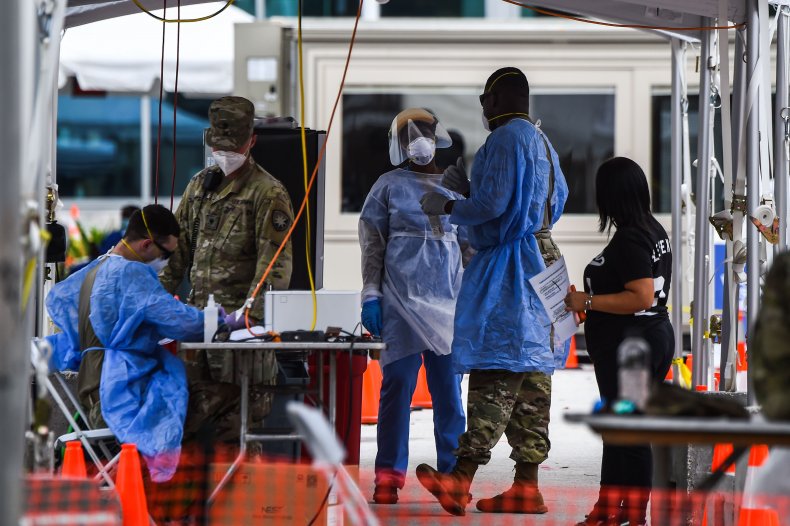 During a press conference Tuesday, Florida Governor Ron DeSantis addressed the increasing number of coronavirus deaths and said, "these are tough, tough things to see when you see fatalities come in."
The governor added that the number of deaths is "reflective of infections and hospitalizations that happened in the past. It's more of a lagging indicator," while noting that emergency room visits are "probably more of a leading indicator about where things are trending."
The new coronavirus, which causes the respiratory disease COVID-19, has continued to spread throughout the U.S., which currently has over 4.4 million cases and at least 152,075 deaths, according to Johns Hopkins University's tracker.
Newsweek reached out to the Florida Department of Health for comment, but did not receive a response in time for publication.