Nearly Half of Floridians Don't Trust Trump to Provide Accurate Coronavirus Information: Poll
Nearly half—47 percent—of Florida residents say they don't trust President Donald Trump to provide them with accurate information about the coronavirus according to a poll released today by Quinnipiac University.
Trump, who became an official Florida resident in 2019, has been holding daily news briefings from the White House to discuss how the U.S. is mitigating the coronavirus spread. Guidelines recently issued by the Trump administration detailed plans for reopening the U.S. in stages beginning May 1.
However, some experts have expressed concern that reopening the country too early could lead to a second wave of coronavirus in the fall. While Trump has left the decision on when and how to reopen states up to governors, those polled expressed their desire to receive accurate information about the virus from health officials, not lawmakers.
Only 13 percent of Florida voters surveyed said they relied on public health officials least for accurate information about the coronavirus. Florida Governor Ron DeSantis received 8 percent of that vote. DeSantis also received 8 percent of the support of those polled when asked who they relied on most for accurate information about the coronavirus.
When asked who they rely on for accurate information, 62 percent of Florida voters named public health officials. Only 18 percent said they counted on Trump for correct information.
"Voters make it very clear they want guidance on navigating the crisis not from the White House or the State House in Tallahassee, but from public health officials," said Quinnipiac University Polling Analyst Tim Malloy in a Wednesday press release.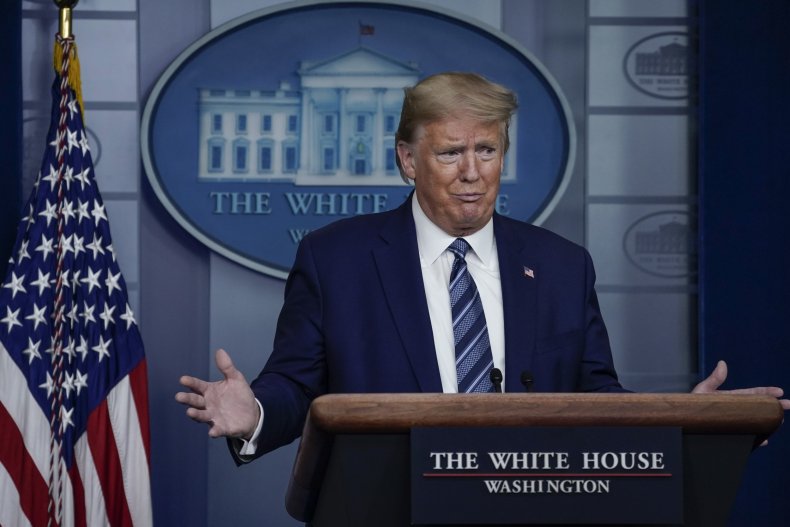 "Americans want to see their president out front and in command in a crisis and that's exactly what President Trump is doing," Trump campaign communications director Tim Murtaugh told Newsweek on Wednesday.
Opinions concerning how Trump is handling the U.S. response to the coronavirus fell along partisan lines. While 89 percent of Republicans polled approved of Trump's handling of the pandemic, 87 percent of Democrats polled did not.
Although Governor DeSantis allowed Florida officials to reopen beaches if they saw fit Friday, 72 percent of Floridians polled said they did not believe social distancing practices should be abandoned at the end of April. Only 22 percent said they thought the social distancing guidelines should be loosened by April's end.
Out of the 72 percent who said social distancing should be extended past the end of April, 90 percent of those polled identified as Democrats while 55 percent said they were Republicans.
"I get a kick out of somebody jogging on the beach in California, like all by his lonesome, and you have a fleet of cops go out there," DeSantis told reporters Friday. "He's just jogging. Going forward, I think we've got to be promoting people to get exercise."
In Jacksonville, beaches were open for limited hours. Towels, beach chairs and sunbathing were prohibited while the following of social distancing guidelines was encouraged.
"This can be the beginning of the pathway back to normal life," said Jacksonville Mayor Lenny Curry on Friday. "Please respect and follow these limitations. Stay within the guidelines for your safety as well as for the safety of your neighbors."
After the beaches in Jacksonville were reopened, reports of crowds not following the guidelines began to surface. However, Mayor Curry said Monday he would not make "decisions based on how I think critics outside of this city or certain news outlets are going to react and talk about us."