Nearly Half of Holiday Shoppers Aware of Smash-and-Grab Uptick Feel 'Less Safe': Poll
The rise in smash-and-grab retail robberies reported across the country over the past couple of months has some holiday shoppers feeling "less safe" about purchasing items in person this season, according to a NewsNation poll.
The poll was conducted on December 9 as authorities continue responding to the retail thefts. In some videos authorities shared of specific robberies, dozens of thieves could be seen racing into stores and grabbing items off shelves. In one November incident in Walnut Creek, California, an estimated 80 people entered a Nordstrom store in what authorities said was "clearly a planned event."
Though many of the smash-and-grabs occurred in major cities such as San Francisco, Los Angeles and Chicago, industry leaders told Newsweek the trend is a nationwide problem.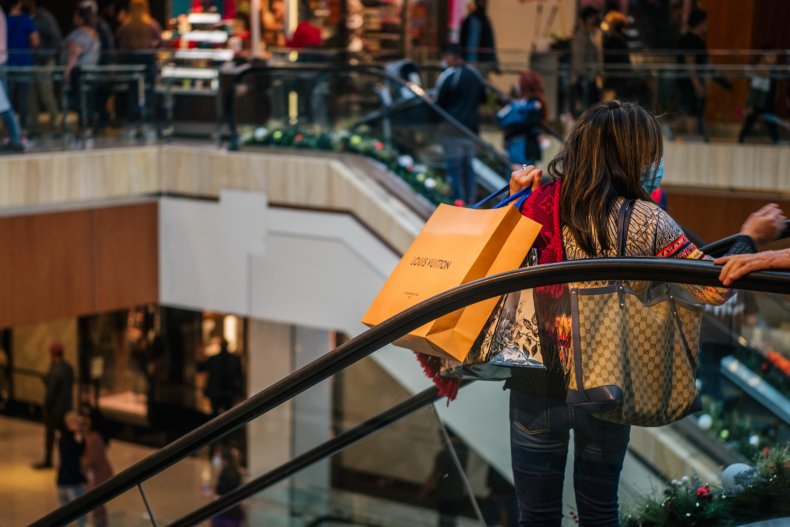 About 74 percent of the 1,166 registered voters polled said they had heard about the rise in smash-and-grab robberies, according to NewsNation's survey. Of that group, about 48 percent said they felt "less safe" shopping in person. About 6.4 percent said they felt "more safe," and just shy of 46 percent said the retail robberies had "no impact either way" on their feelings about the holiday shopping season.
Of the 26 percent of respondents who told pollsters they were unaware of the recent crime trend, a majority, 56.3 percent, said they felt neither more nor less safe shopping this holiday season, while just over 34 percent said they felt less safe. About 9.3 percent reported feeling safer shopping in person this year.
About 1 in 5 individuals in the entire survey group told pollsters they did not intend to shop in person at all. About 6.5 percent of those individuals attributed their lack of interest in in-person shopping to recent reports about retail theft.
When all respondents were asked where they believe retail crime is an issue, nearly half said they think it is a problem in both their local communities and across the U.S.
Although a group of shoppers said they felt "less safe" shopping in person in light of the recent smash-and-grab trend, NewsNation's poll assessment said retail robberies "barely registered" as a reason why more than 20 percent of respondents said they did not plan to shop in person. Many within that group said they planned instead to purchase items online.
"It looks like the smash-and-grab robberies won't push shoppers too far off course," according to NewsNation pollsters. The survey report went on to cite Richard Rossman, a sergeant in the Broward County, Florida, sheriff's office, who encouraged shoppers to not let reports of retail crimes dissuade them from visiting stores in person.
"The general public should not allow this small group of individuals to dictate how they live their lives, how they shop," Rossman said, according to NewsNation's report.
NewsNation reported margins of error ranging from 2.3 to 6.3 percent, which pollsters attributed to the varying numbers of respondents answering each question.