Nearly Half of LGBTQ Youth Considered Suicide in Last Year: Survey
A new survey of young LGBTQ individuals living in the U.S. found about 45 percent said they "seriously" thought about attempting suicide during the previous year.
The findings demonstrate an "upward trend" over recent years in deliberations about suicide among LGBTQ individuals ages 13 to 24. The survey is the fourth annual national review focusing on mental health among young LGBTQ individuals conducted by The Trevor Project, an LGBTQ suicide prevention nonprofit.
Mental health concerns have been on the rise among American youth in recent years, according to data from the U.S. Centers for Disease Control and Prevention (CDC) that assessed mental health in high school students. A CDC analysis published in March said the coronavirus pandemic "has created traumatic stressors that have the potential to further erode students' mental wellbeing," with about one-third of high school students saying they "experienced poor mental health" during the pandemic. Mental health concerns were even greater for "lesbian, gay, and bisexual youth and female youth," according to the March analysis.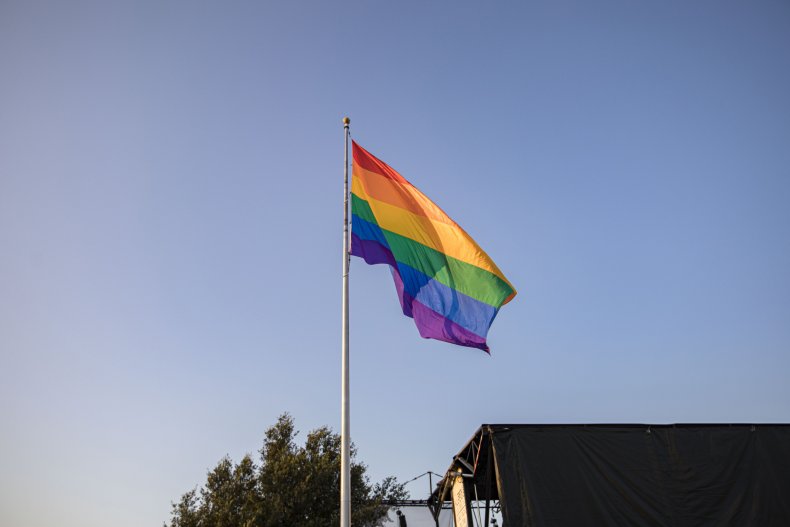 A Wednesday press release from The Trevor Project acknowledged the pandemic's ongoing effects on survey respondents.
"The impacts of the COVID-19 pandemic and relentless political attacks during this time period cannot be understated," Trevor Project CEO and Executive Director Amit Paley said in the release.
The Trevor Project's first National Survey on LGBTQ Youth Mental Health was conducted from February to September 2018 and published in 2019. That inaugural survey found 39 percent of respondents said they had "seriously" thought about attempting suicide, a percentage that increased by 1 percent in the 2020 survey and jumped to 42 percent in the 2021 survey before rising again to 45 percent for the nonprofit's 2022 survey.
There were more reports of suicide attempts among respondents of color than white respondents, the 2022 survey found.
Community acceptance of LGBTQ youth appeared to have a positive impact on rates of suicide attempts among respondents, according to the survey. More than one in three respondents said they had an LGBTQ-affirming home, while 55 percent said their school was LGBTQ-affirming. The results "underscore the importance of having affirming homes and schools," the survey reported.
While nearly half of all respondents for this year's survey reported considering suicide in the last year, more than half—about 53 percent—of transgender and nonbinary respondents, and 33 percent of cisgender respondents, said the same. A majority of all LGBTQ respondents said they experienced symptoms of depression and anxiety, and while about 82 percent expressed an interest in mental health care, 60 percent of the individuals within that smaller group said they "were not able to get it."
When asked about the pandemic specifically, 56 percent of respondents rated their mental health as "poor" either "most of the time" or "always" during the pandemic.
Dr. Jonah DeChants, a research scientist for The Trevor Project, told Newsweek the timing of the data collection for the 2020 and 2021 surveys provides important context for each survey's results.
"Although several factors may be related to the upward trend in suicidal thoughts, it is important to note that our 2020 survey ended recruitment just as COVID-19 was starting in the U.S., while recruitment for 2021 occurred in Fall 2020 when the impacts of COVID were quite strong and the national political discourse was incredibly heated ahead of the presidential election," DeChants said.
"While the pandemic has been difficult for most people, it must be acknowledged that many LGBTQ youth lost access to vital support systems, and struggled in unsupportive and unsafe homes," DeChants continued. "On top of that, we've seen record anti-LGBTQ legislation this past year, mostly targeting transgender and nonbinary youth, further fueling isolation, stigma, and stress."
DeChants added of the survey in general that it is conducted each year "to amplify the experiences of diverse LGBTQ youth with the hope these data will be used by policymakers to implement LGBTQ-inclusive policies and comprehensive mental health interventions to reverse these troubling trends."
The Trevor Project's 2022 survey was conducted among 33,993 LGBTQ individuals in the U.S. ages 13 to 24 from September 20, 2021 to December 31, 2021. Respondents were "recruited via targeted ads on social media," but not through The Trevor Project's website or social media channels, the nonprofit said.
If you have thoughts of suicide, confidential help is available for free at the National Suicide Prevention Lifeline. Call 1-800-273-8255. The line is available 24 hours every day.
Updated 06/21/2022, at 11:28 a.m. ET: This story has been updated with additional information.