Nearly half of American voters said it's too soon to lift the federal travel mask mandate, according to a new poll.
The survey, released Wednesday by Morning Consult and Politico, found 49 percent of voters said it's too early to end mask requirements on airplanes, trains, buses and subways. Approximately 16 percent of voters said it's the right time to end the mandate and another 16 percent said it should have already ended. A small number of respondents, 11 percent, said they never thought the mandate should have been enacted.
The poll was conducted just before a federal judge struck down the mask mandate enforced by the U.S. Center for Disease Control and Prevention (CDC). Judge Kathryn Kimball Mizelle, who was appointed by former President Donald Trump, voiding the requirements on Monday prompted major airlines such as Delta and United Airlines, as well as ridesharing apps Uber and Lyft, to do away with masking.
Mizelle said in a 59-page ruling that the CDC exceeded its authority in imposing the mandate, ruling against the government's argument that the mask requirement was enacted to help sanitation.
"Wearing a mask cleans nothing," Mizelle wrote. "At most, it traps virus droplets. But it neither 'sanitizes' the person wearing the mask nor 'sanitizes' the conveyance."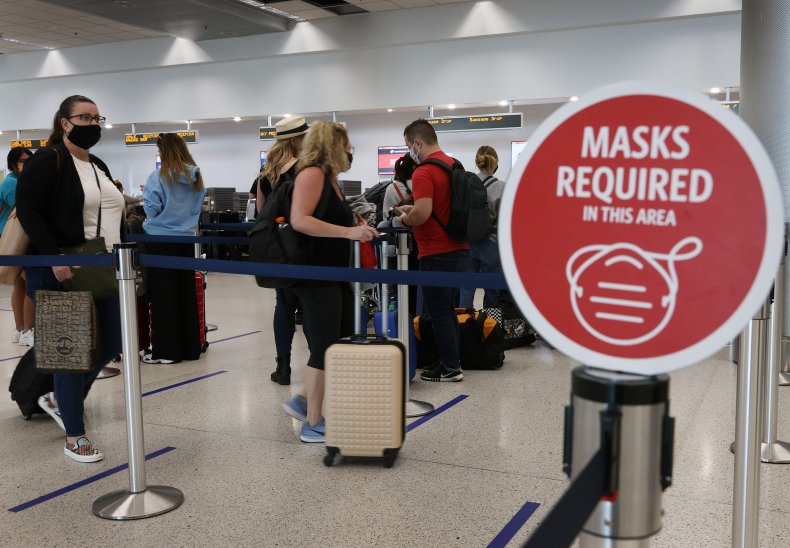 White House press secretary Jen Psaki called the judge's decision "disappointing" and said the administration is continuing to urge people to wear face coverings on public transportation systems.
Before Mizelle's decision, the CDC had extended the mask mandate on public transport to assess the rise in coronavirus cases due to the Omicron variant and the new BA.2 subvariant, which at the time of the CDC's extension made up more than 85 percent of cases in the United States.
"The CDC recommended continuing the order for additional time—two weeks—to be able to assess the latest science in keeping with its responsibility to protect the American people," Psaki told reporters on Monday. "So, this is obviously a disappointing decision."
Viral videos showed passengers celebrating following the announcement that the mask mandate had been lifted.
Conservatives rejoiced at the news of the mask mandate being voted. Florida Governor Ron DeSantis called the ruling an end to "misery" for airline workers and passengers.
The Department of Justice has said it will appeal Mizelle's ruling if the CDC decides it's still needed for public health purposes. The CDC said on Tuesday night it was still assessing the need for face coverings in such public settings.
Morning Consult and Politico surveyed 2,005 registered voters between April 15 and April 17, 2022. The survey has a margin of error of plus or minus 2 percentage points.