Nearly One-Third of U.S. Churchgoers Want Churches to Be Closed During Pandemic: Poll
Nearly a third of churchgoers in America said they believe their places of worship should be closed entirely during the pandemic, according to a new survey by Pew Research Center.
In the study conducted among 10,211 adults between July 13 and July 19, Pew researchers asked respondents about the ways in which their places of worship were implementing restrictions—such as social distancing measures, mask mandates and enhanced sanitation—as the pandemic remained a threat within the country. The survey had a 1.5 percent margin of error, Pew's report said.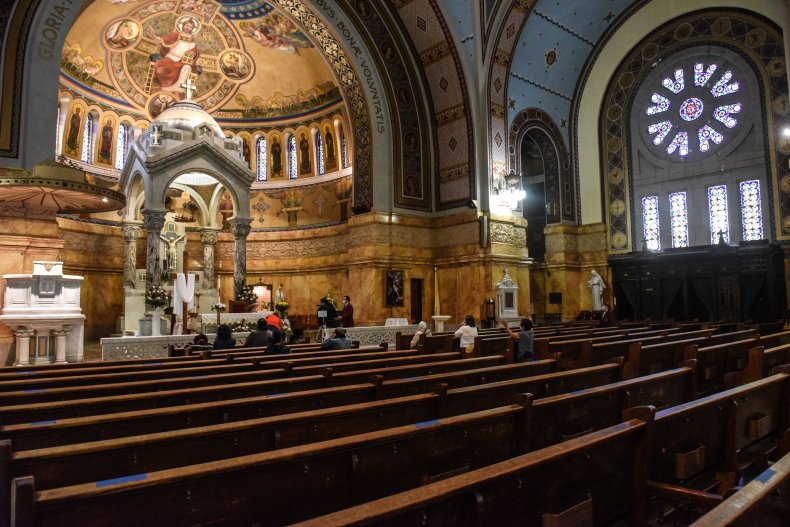 A narrow majority—about 57 percent—of respondents told researchers they believed their place of worship should operate with modifications in place, though support for specific modifications varied. While 51 percent said they wanted measures in place to encourage social distancing, 44 percent said the same for face coverings, and only 41 percent wanted lower attendance numbers at services.
In contrast, about 28 percent of respondents prefer their churches to be closed, while 13 percent of survey participants said they wanted their religious institutions open without any pandemic-inspired restrictions in place.
Additionally, 79 percent of respondents told researchers they believed places of worship should be required to obey the same guidelines state and local officials approve for other businesses.
Less than a third of respondents said they wanted singing at religious services limited, despite an analysis published by the Centers for Disease Control and Prevention (CDC) in May that found one choir practice held at a church in Washington state earlier this year led to a COVID-19 outbreak that infected at least half of the 61 people in attendance.
Though majorities of both Democrats and Republicans shared the view that places of worship should follow local rules in place for other businesses, there existed a nearly 30 percent divide between the two parties, with 33 percent of Republicans saying they believed religious institutions should have their own sets of pandemic rules and only 7 percent of Democrats agreeing.
While researchers said the answers to their questions didn't vary much from one respondent's city of residence to another, they did find that areas with limited virus outbreaks were more likely to have churchgoers who were willing to attend in-person services.
Local governments' responses to the virus have varied widely since COVID-19 was declared a pandemic earlier this year. Though most states temporarily closed their local economies in the spring, all states began reopening by June, though several had to later reimpose restrictions due to new outbreaks. While President Donald Trump said places of worship provided essential services in late May and thus were allowed to remain open, the ways in which each state enables them to operate still vary in accordance with local infection rates.
The CDC's recommendations for places of worship encourage congregants to wear masks, practice social distancing, boost sanitation efforts and limit contact among patrons, but the agency made it clear the guidelines were not intended to prevent any one institution from opening.
"This guidance is not intended to infringe on rights protected by the First Amendment to the U.S. Constitution or any other federal law," the CDC's guidelines read. "The federal government may not prescribe standards for interactions of faith communities in houses of worship, and in accordance with the First Amendment, no faith community should be asked to adopt any mitigation strategies that are more stringent than the mitigation strategies asked of similarly situated entities or activities."
Newsweek reached out to Pew Research Center for comment, but did not receive a response in time for publication.