Nearly a Third of Washington, D.C.'s COVID-19 Outbreaks in Last 4 Months Tied to Daycare, K-12 Schools
Public data provided by DC Health shows that almost 60 percent of the COVID-19 outbreaks reported to Washington, D.C. health officials between early August and late November were linked to colleges, K-12 schools and childcare or daycare centers.
Thirty outbreaks were reported in connection with college and university campuses, buildings and off-campus residences, representing about 27.5 percent of Washington, D.C.'s total outbreaks. Nineteen outbreaks were tied to K-12 schools—which the health department noted can include staff and student activities conducted in and out of the classroom—and another 15 were linked to daycare and childcare facilities, according to DC Health's data. The numbers represent a new era of COVID-19 reporting by DC Health, with expanded transparency regarding virus outbreaks as previously requested by the Office of the District of Columbia Auditor (ODCA).
"We welcome the new data on COVID outbreaks shared today, and the new information on exposure activity," D.C. Auditor Kathleen Patterson told Newsweek. "In the COVID environment each of us has to make our own risk assessment—what we can and can't do, safely, or relatively safely."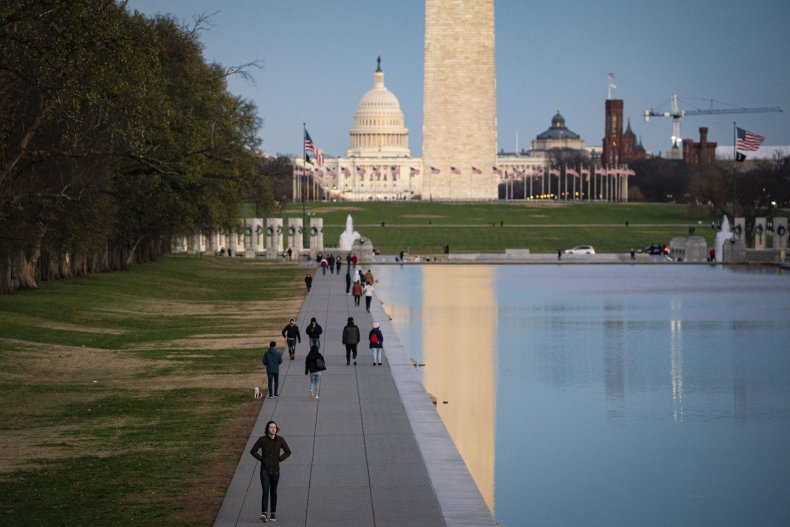 The ODCA published a report on November 23 assessing Washington, D.C.'s reporting of COVID-19 data throughout the pandemic. Though the ODCA said the nation's capital conducted "strong" COVID-19 data gathering thus far, the report suggested additional data points that might be helpful for residents. Among those suggestions were recommendations to detail the settings of identified virus outbreaks and the demographics of those impacted.
While Patterson praised the latest data expansions, she said further improvements to the breakdown of COVID-19 information were possible and would help residents.
"DC Health's Dr. [LaQuandra] Nesbitt made the point at today's press conference that DC residents are paying attention to the guidance they're getting—she mentioned DC's track record at mask-wearing," Patterson said. "With more and better information people make better decisions."
The health department's current data breaks down the type of outbreak reported and the week in which it was reported to health officials.
"We'd like to see more detail on the outbreaks: which campuses, what childcare facilities and are the facilities with outbreaks following the best practices for safety? Deeper and more granular data on outbreaks would be even better to inform our personal decision-making," Patterson told Newsweek.
Washington, D.C. Mayor Muriel Bowser is one of several government officials who has worked to balance the risk of COVID-19 exposure in school settings with the social, physical and mental benefits children get out of attending classes in person. Over the summer, Bowser announced that the first term of the 2020-2021 school year would begin virtually, with in-person instruction possible in November. Some public schools began reopening in mid-November, with school administrators issuing school-wide alerts whenever someone within the school community tested positive for COVID-19.
According to DC Health's data, more than 23,000 residents had tested positive for the virus in total by December 6, with 701 confirmed deaths due to COVID-19. An estimated 6 percent of the confirmed COVID-19 cases were reported in children 14 or younger, while 4 percent of the cases were reported in teenagers between the ages of 15 and 19. Another 9 percent of the area's confirmed cases were reported within the 20-24 age bracket, according to the health department's data.