Nearly Three-Quarters of Michigan Voters Want Open Carry of Guns Banned at Polls, Counter to Court Decision
Although a Michigan Court of Claims overturned an order banning the open carry of guns at polling places this week, a strong majority of voters in the state support the ban, according to a new poll.
On Tuesday, Court of Claims Judge Christopher Murray granted a preliminary injunction against Michigan's Secretary of State Jocelyn Benson order, which banned the open carry of firearms within 100 feet of polling centers. Although Murray ruled against Benson's decision, he said it was possible for such a ban to be implemented. The judge wrote in his opinion that the order violated the Midwestern state's Administrative Procedures Act. The state's attorney general appealed the decision on Wednesday.
Meanwhile, polling conducted by The Detroit News/WDIV-TV from October 23-25 shows that nearly three-quarters (73 percent) of Michigan voters back the ban. Just 22 percent think the open carry of firearms should be allowed at polling sites, while 5 percent said they "don't know." The percentage of Michigan voters supporting the ban is well outside the poll's margin of error, which is plus or minus 4 percentage points.
Notably, the poll found that a majority of Republicans and a significant majority of Democrats support the ban. Even a majority (67 percent) of gun-owning voters back a ban.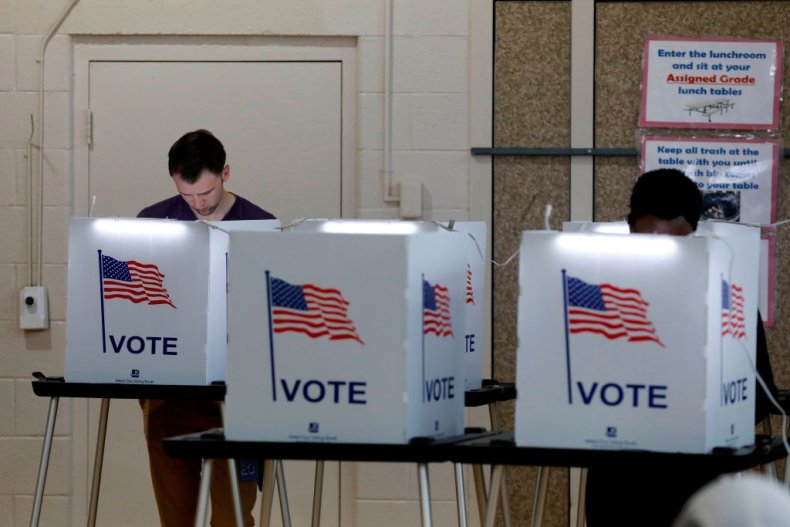 Whether the appeal to the Court of Claims decision will go through before Election Day, which is less than a week away, remains to be seen. Ryan Jarvi, press secretary for Michigan Attorney General Dana Nessel, told Newsweek on Wednesday that he couldn't say "when a decision will be made. That's up to the court."
Benson's order came just over a week after the FBI announced on October 8 that it had arrested 13 suspects in connection with an alleged plan to kidnap and possibly assassinate Michigan Governor Gretchen Whitmer, a Democrat. The suspects were reportedly angered by Whitmer's coronavirus restrictions, which were overturned by Michigan's Supreme Court earlier this month.
"As the state's chief election officer I have a sworn duty to protect every voter and their right to cast their ballot free from intimidation and harassment. I will continue to protect that right in Michigan, and we will be appealing this ruling," Benson said in a statement after Murray's Tuesday decision.
Gun rights activist Robert Davis brought the suit against the secretary of state's order. Three Michigan gun rights groups—Michigan Open Carry Inc., Michigan Coalition for Responsible Gun Owners Inc. and Michigan Gun Owners Inc.—filed motions in support of Davis.
Newsweek reached out to Michigan Open Carry Inc., Michigan Coalition for Responsible Gun Owners Inc. and media representatives for the secretary of state for comment, but they did not immediately respond.
Open carry is already banned at Michigan churches, schools and some public buildings, where many polling places are located. Voter intimidation is also illegal under federal law. Law enforcement leaders had previously questioned the legality of Benson's decision, voicing qualms about how it could be legally enforced.
Matt Saxton, executive director of the Michigan Sheriffs Association, told CNN that "there is no law against open carry in the state of Michigan on the books." He said that his organization had advised local sheriffs to work with local prosecutors and clerks to ensure voters are safe at polling sites.