Nearly Two Thirds of Americans Say No Information Will Change Their Position on Trump Impeachment, Says Poll
While Americans are paying attention to the impeachment hearings against President Donald Trump, almost two-thirds of those who responded to a new NPR/PBS NewsHour/Marist poll, released Tuesday, say no new information will change their minds about what the outcome of the inquiry should be.
Independents could be the most politically malleable with four out of ten saying they could rethink their opinions. However, only a quarter of Republicans and Democrats say they could change their minds.
"Strictly on the merits of what has been presented, people think it is wrong for a president to interject a foreign leader into the United States' electoral politics," says Dr. Lee M. Miringoff, Director of The Marist College Institute for Public Opinion. "The disagreement is on whether or not it is a big deal which warrants impeachment."
Impeachment proceedings are a serious matter to 49 percent of those polled, but 47 percent think the hearings are "just politics." Last month, 51 percent believed that impeachment was a serious matter, while 46 percent did not.
Respondents were split on whether Trump should be removed from his office, with 45 percent believing the president should be impeached and ousted, while 44 percent said they disagree or were unsure.
Trump's impeachment without removal from office appeals to 45 percent of responders, but a close 44 percent oppose that idea or are unsure of impeachment or removal.
Half of the Americans polled approve of the impeachment inquiry, with that number coming in at an even 50 percent. Disapprovers stand at 43 percent, while 30 percent of those polled disapprove strongly.
However, 70 percent of those polled do not think it is acceptable for a president to ask a foreign leader to look into the dealings or personal life of a political rival. That result is up slightly in this month's poll, whereas last month 68 percent said it was unacceptable. While 22 percent believe the practice is unacceptable, that number was higher last month at 26 percent.
The results of the poll are summarised in the graphic below provided by Statista.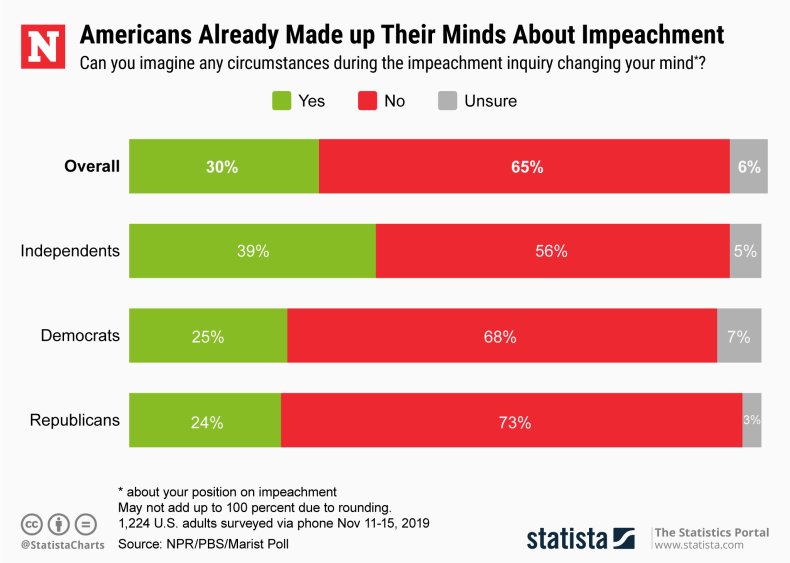 Seats in the House of Representatives may be on the line, according to the poll. Representatives who vote for Trump's impeachment are 29 percent less likely to be voted for again. However, 19 percent say they are more likely to vote for representatives who vote to impeach the president.
Trump's performance as president was also a subject of the poll, with 41 percent giving Trump the thumbs up and 29 percent voicing their strong approval.
On the flip side, 51 percent of those polled disapproved of Trump's job in the White House and 40 percent disapproved strongly.
Voters who plan to cast their ballots for Trump rested at 39 percent, while 52 percent said they would definitely vote against him.
Trump's foreign policy drew a relatively high disapproval rate with 54 percent not in favor and 39 percent approving of the president's policy decisions. Trump's handling of Syria was also met with disapproval as 52 percent said they did not agree with.
But there is still no clear picture of who Democrats would choose to run against Trump in 2020 as 75 percent of those polled have yet to make up their minds in the Democratic race.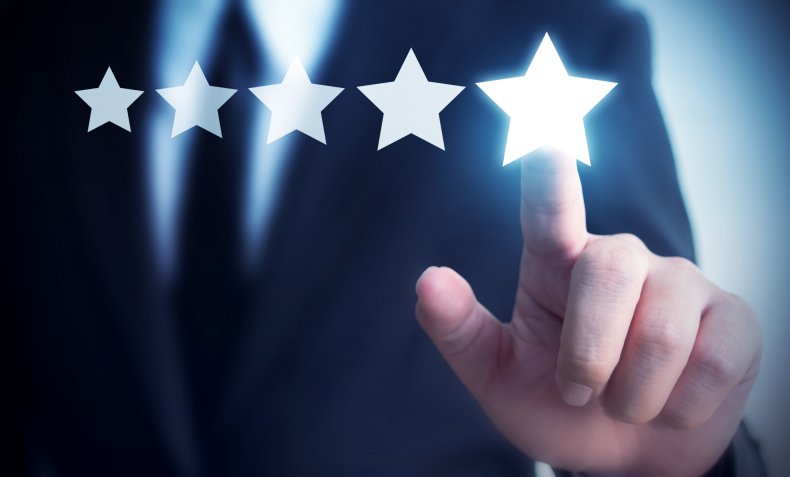 This article was updated to include an infographic.