Nearly Two-Thirds of Americans Support Voting By Mail Despite Trump's Opposition, Fox News Poll Shows
A significant majority of Americans support allowing citizens to vote by mail in the coming election, despite President Donald Trump's argument that expanding access to absentee ballots is an attempt to "rig" the election.
A Fox News poll published Monday found that nearly two-thirds, or 63 percent, of respondents—including a majority of independents and Democrats as well as 42 percent of Republicans—favor allowing all Americans to vote by mail ahead of the November election. Only 30 percent of respondents said they did not support the idea, with 8 percent of them said they did not know.
Among Democrats, 83 percent supported allowing all Americans to vote by mail. The majority of independents, 60 percent, also supported the proposal. Only a slim majority—51 percent—of Republicans said they firmly opposed expanding mail-in voting.
Amid the novel coronavirus pandemic, there has been a growing push from Democrats and activists to allow every voter to cast their ballot by mail.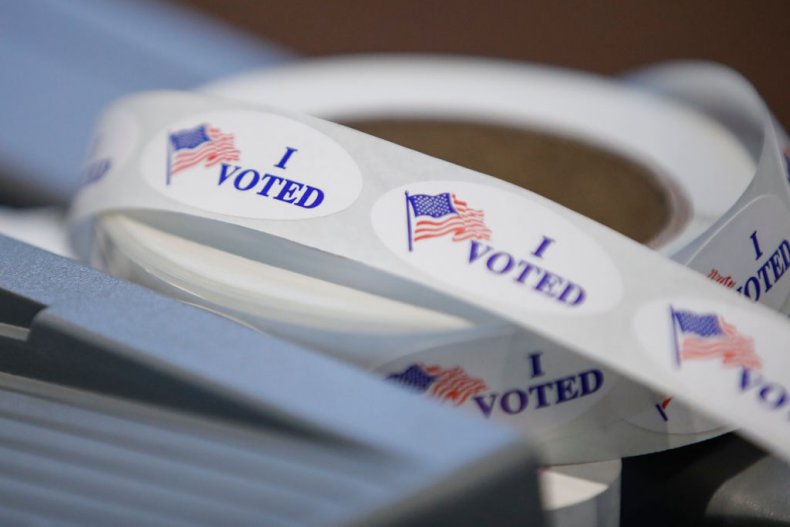 "Americans should not be forced to risk their health to cast their ballots. That's why poll after poll has shown that a vast majority of Americans support mail-in voting as a safe alternative to in-person voting," Ryan Thomas, a spokesperson for Stand Up America, told Newsweek in an email. The group advocates for Congress to allocate $4 billion to expand vote by mail access.
"We're running out of time to guarantee that Americans across the country can vote by mail—and Congress must ignore Donald Trump's blatant lies by acting right now to provide states the funds they need," Thomas said.
Many states have already made it possible for state residents to easily vote absentee, but Trump has staunchly opposed expanding the practice, despite having done so at least twice himself. The president cast an absentee ballot during the 2018 midterm election and again ahead of Florida's primary in mid-March.
That hasn't stopped him from strongly criticizing the idea and suggesting that expanding vote by mail is a Democratic plot against him and Republicans.
"The United States cannot have all Mail In Ballots. It will be the greatest Rigged Election in history. People grab them from mailboxes, print thousands of forgeries and 'force' people to sign. Also, forge names. Some absentee OK, when necessary. Trying to use Covid for this Scam!" he tweeted on Sunday.
Retweeting the post later in the day, he wrote: "The Democrats are trying to Rig the 2020 Election, plain and simple!"
Newsweek has reached out to the White House for comment. A representative of Trump's reelection campaign pointed to polling by the Republican National Committee that showed that 62 percent of Americans say there is fraud in U.S. elections. They also pointed to multiple isolated instances of voter fraud, in which the perpetrators were caught and prosecuted.
Despite Trump's claims, there is no evidence of significant or widespread voter fraud within the U.S. It's also unclear whether allowing more people to vote by mail would hurt the president, Republicans or Democrats. Some political analysts have pointed out that older voters, who tend to be more conservative, are more likely to vote by mail, which could potentially help the president and Republicans in November.
"Extensive research reveals that fraud is very rare, voter impersonation is virtually nonexistent, and many instances of alleged fraud are, in fact, mistakes by voters or administrators. The same is true for mail ballots, which are secure and essential to holding a safe election amid the coronavirus pandemic," an article published by The Brennan Center for Justice at New York University said.
A commission set up by Trump to investigate his unfounded allegations of widespread voter fraud was disbanded in 2018 without uncovering evidence to back the claims. Maine's Secretary of State Matthew Dunlap, who was part of the commission looking into voter fraud, later called it "the most bizarre thing I've ever been a part of."