Nearly Two-Thirds of CEOs Say Biden's Corporate Tax Hike Would Slow Wage Growth: Survey
A majority of CEOs said that President Joe Biden's plan to raise the corporate tax rate would result in slower wage growth for American workers, according to a new survey released Monday.
The Business Roundtable, which polled 178 corporate leaders between March 8 and March 19, found that nearly two-thirds of respondents said that such a tax hike would reduce wage growth and 71 percent reported it would negatively affect their ability to hire.
Seventy-five percent of CEOs said that the new tax burden would negatively affect their company's investments in research and development, as well as innovation.
Overall, 98 percent of the executives surveyed said that a 7 percent increase in the corporate tax rate would have a "moderately" to "very" damaging effect on their business's competitiveness.
"The proposed tax increases on job creators would slow America's recovery and hurt workers," Joshua Bolten, president and CEO of the Business Roundtable, said in a statement. "This survey tells us that increasing taxes on America's largest employers would lead to a reduced ability to hire, slower wage growth for workers and reduced investments in research and development—all key components needed for a robust economic recovery."
Bolten added, "When U.S. companies can compete around the world, they can invest in America and help generate more jobs, pay higher wages and support all of their stakeholders."
Biden said he intends to pay for his next legislative proposal, the so-called American Jobs Plan, by raising the corporate tax rate to 28 percent. The rate was lowered from 35 percent to 21 percent under former President Donald and the Republican-controlled Congress.
The American Jobs Plan would spend $2 trillion in infrastructure over the next eight years. Biden has billed the proposal as a "once in a generation" domestic investment not seen since the space race.
At least $621 billion would go to transportation infrastructure such as bridges, roads and airports; $400 billion to care for elderly and disabled Americans; $100 billion to expand broadband access; $111 billion to improve drinking water; $580 billion to enhance American manufacturing; among other measures.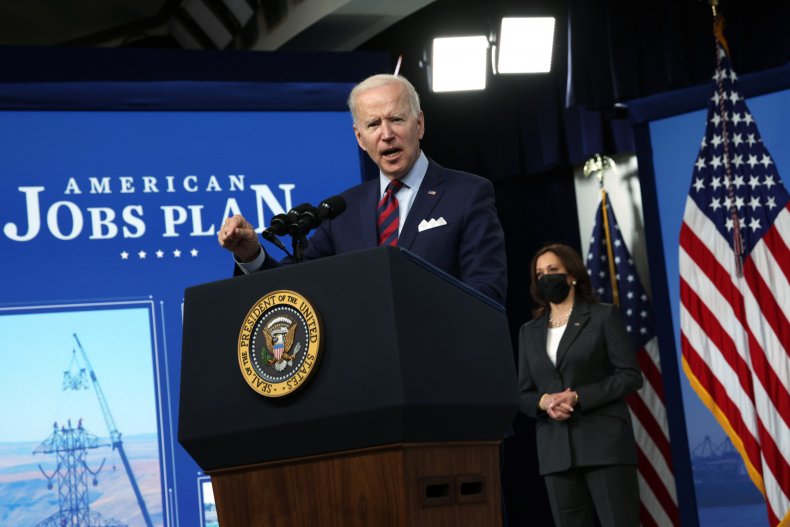 But the White House's plan to pay for the infrastructure spending by raising the corporate tax rate has been generally opposed by Republicans in Congress, including Senate Minority Leader Mitch McConnell.
McConnell previously told reporters in his home state of Kentucky that if the bill is "going to have massive tax increases and trillions more added to the national debt," he's not likely to support it.
Last week, while delivering remarks about his administration's infrastructure legislation, Biden signaled he was willing to agree to a lower corporate tax rate if Republicans had other ideas that would work.
"Debate is welcome," Biden said. "Compromise is inevitable. Changes are certain."