Nearly Two-Thirds of Latinos Have Lost Jobs or Face Economic Hardship Due to Coronavirus Outbreak, Poll Finds
More than 65 percent of Hispanics have lost their jobs or suffered a significant reduction in their incomes as a result of the coronavirus pandemic—a "devastating" loss that will be difficult to recoup, experts said.
The figures come from a new poll commissioned by Somos Community Care, a physician-led network of doctors in New York City that serves low-income, minority and immigrant communities.
Among the poll's grim findings: Nationally, one-third of Latinos reported that they have lost a significant amount of savings and retirement, and another 57 percent said they had to cancel or delay medical appointments. About 43 percent said they expect to have trouble paying their rent.
In addition, two-thirds of Hispanics said they have had difficulty finding basic necessities, such as medicine, food and household supplies. One-quarter of those surveyed said they know someone who is sick and wants a test, but can't get one—including more than one-third of Latinos in New York and New Jersey.
The poll, conducted by Latino Decisions, which surveyed 1,200 Latinos from April 7 to April 12, represents one of the most comprehensive looks at the state of the U.S. Latino community amid the pandemic.
Henry Muñoz, the former DNC finance chair and founder of Somos, told Newsweek its findings were "eye-opening, important, and potentially devastating."
"It's not something that is going to go away on May 15 or even by December 31," he said about the impact of the crisis on the Latino community. "It's the intersection of all the historic neglect brought into focus, not just with health care, but also job loss and the economy, the digital divide and education."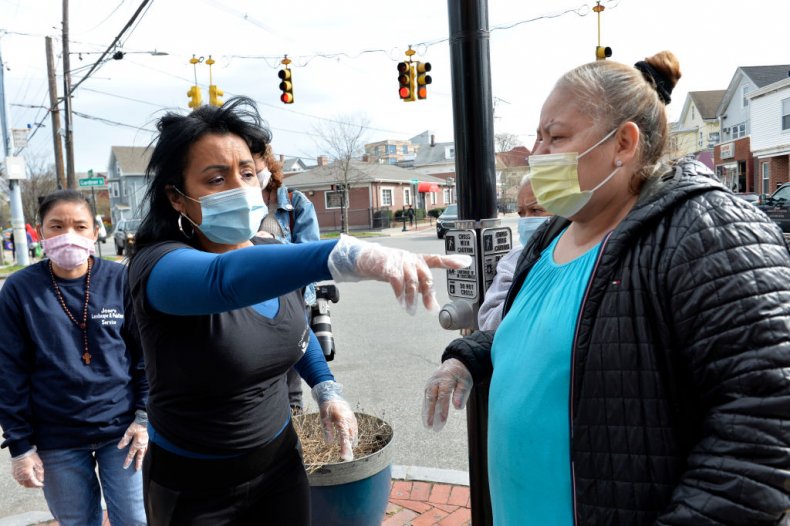 Among the poll's other findings: About 35 percent of respondents said they lost their job, and nearly half reported having their hours or wages cut. Another 29 percent reported that a "small business they own has either substantially reduced revenue or gone out of business altogether."
Polls of Latinos have regularly found concerns over health care costs, as well as jobs and the economy to be among the top issues for the community, but the survey found that has now changed: 62 percent of those surveyed now say their priority is for the government to deal with the COVID-19 crisis.
"There's a large part of the Latino community that exists on the edges of American society and this pandemic has shown the consequences of some of the inequities in our system," Texas Rep. Joaquin Castro told Newsweek.
Many of these issues are interrelated. According to the poll, job losses have also led to 20 percent of Latinos losing their employer-provided health insurance, with 63 percent of them now saying they are worried it could happen to someone else in the household. Because many Hispanics work as "essential" employees, the dangers are not abating, with 36 percent reporting they are still going to work every day in jobs such as prepping produce, working in restaurants, or in health care.
"I think what the poll exposes is that for a long time there has been structural inequality in our economy and Latinos have been one paycheck away from their financial stability falling apart," said Matt Barreto, Latino Decisions pollster and co-founder. "And now what we see with the economic crash, as a result of the coronavirus, is this is happening in real-time in front of our eyes, people losing jobs, homes, and their savings."
Besides losing their savings, half of all Latino households in the survey said they had less than $500 saved for emergencies.
The poll comes as early information has consistently shown alarming data regarding how the coronavirus crisis is impacting people of color. Latinos and African Americans are twice as likely to die from the virus in New York City than white people, the city's health department found.
Muñoz said his hope is that the poll organizes Latinos to speak up, register for the census and to vote, and call members of Congress because it's "not right that the recovery act doesn't include [undocumented] immigrants."
"We always talk about 'where are our leaders?'" Muñoz said. "But we need to quit waiting for people to rescue us, we have to rescue ourselves. We need to take care of each other."