Nearly Two-Thirds of Republicans Think Coronavirus Outbreak Has Been Exaggerated: Poll
More than half of U.S. adults who identify as Republicans believe news coverage of the coronavirus pandemic has overstated the outbreak's severity, according to results of a recent survey.
The survey, conducted by the Pew Research Center, collected responses from 9,654 adults across the country between June 4 and June 10. It found that 63 percent of Republican respondents felt the virus outbreak was "exaggerated," up from 47 percent who answered the same in an earlier survey administered at the end of April.
Additional data pointed to a partisan divide among survey participants in their opinions about the accuracy of media reports about the outbreak, although more respondents felt coverage embellished its seriousness in June compared to April, regardless of their political affiliation. The survey showed 18 percent of respondents who identify as Democrats felt the outbreak was exaggerated in June, up from 14 percent in April.
Overall, 38 percent of those who participated in the survey believed news coverage exaggerated the outbreak in June, compared with 29 percent two months earlier. The jump in respondents who felt the pandemic's gravity was overblown in the Pew Research Center's latest survey seemed to correspond with a decline in respondents who said they followed the outbreak closely in the news.
The research center's report noted that 39 percent of participants surveyed were keeping up with virus-related news in June, down from 57 percent in April. Still, the vast majority of respondents—86 percent—said they continued to follow the news "fairly" closely.
Survey respondents also shared their impressions of prevailing sources of information about the virus outbreak. At least half of all those surveyed, Democrat or Republican, felt information published by the Centers for Disease Control and Prevention was the most reliable, with 64 percent saying the public health agency releases accurate facts "almost all or most of the time."
Between 44 and 53 percent felt data released by national news outlets, local media and state governments was usually accurate, while 30 percent said the same of President Donald Trump's administration. Fewer Republican respondents felt each source published generally factual information than Democratic respondents, outside of answers related to the White House.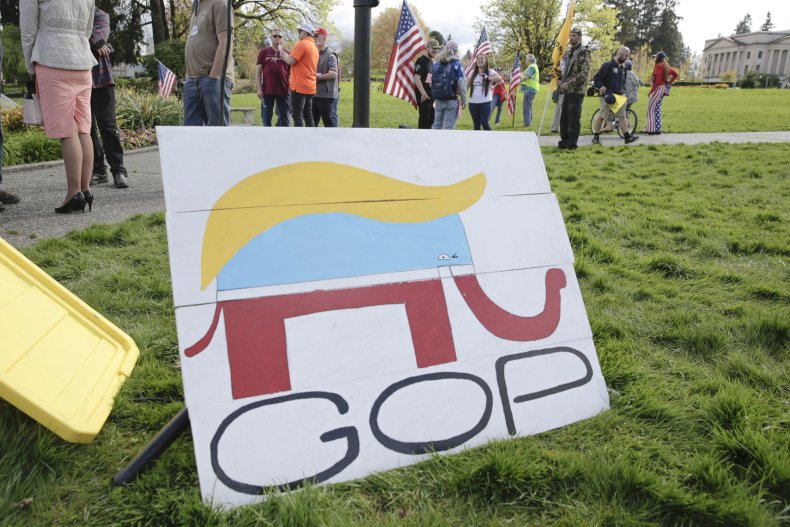 Newsweek reached out to the Pew Research Center for additional comments regarding the survey's results but did not receive a reply in time for publication.
The survey collected responses as the U.S. approached three months since the national outbreak began. Coverage related to the pandemic has dominated local and national news circuits consistently throughout that time, with a greater resurgence of reports from publications, health departments and state officials since the beginning of June, as new virus cases have begun to spike in several states.
Opinions have differed significantly between Republicans and Democrats regarding policy decisions implemented in response to the outbreak, including face mask requirements and business closures effected through statewide stay-at-home orders. Several governors, including Ohio Governor Mike DeWine and North Dakota Governor Doug Burgum, have encouraged the public to separate political affiliation from issues concerning the outbreak and virus transmission. Both DeWine and Burgum are Republicans.