Nebraska Becomes 17th State Calling for Convention to Amend U.S. Constitution
The Nebraska Legislature overcame the filibuster in approving a push for a convention of states to amend the U.S. Constitution, becoming the 17th state to do so.
State lawmakers passed a legislative resolution, LR14, in a 32-11 vote Friday, according to the Unicameral Update.
A convention of states is outlined in Article V of the Constitution, according to The National Consitution Center. It is used to bypass Congress to amend the Constitution, but has never been used. A state's call for amendments can only be considered after approval by two-thirds of its Legislature. With Nebraska's call, the U.S. is halfway to getting the 34 states required for a convention, the Associated Press reported.
In the resolution, the Nebraska Legislature, like other states, proposes amendments that will "impose fiscal restraints on the federal government, limit the power and jurisdiction of the federal government, and limit the terms of office for its officials and for members of Congress."
The resolution will be withdrawn February 1, 2027, according to the document.
Nebraska state Sen. Steve Halloran (R), the resolution's sponsor, said in an email to Newsweek he pushed it because "it is evident that Congress cannot control its runaway spending," noting the significant increase of the national debt under presidencies of both political parties.
"Additionally, over time the federal government has exceeded its constitutional authority, taking too much authority from the States," Halloran, of Hastings, said. "The States need to exercise their constitutional authority by proposing amendments through an Article V Convention of States to restrain the federal government from driving our country into insolvency."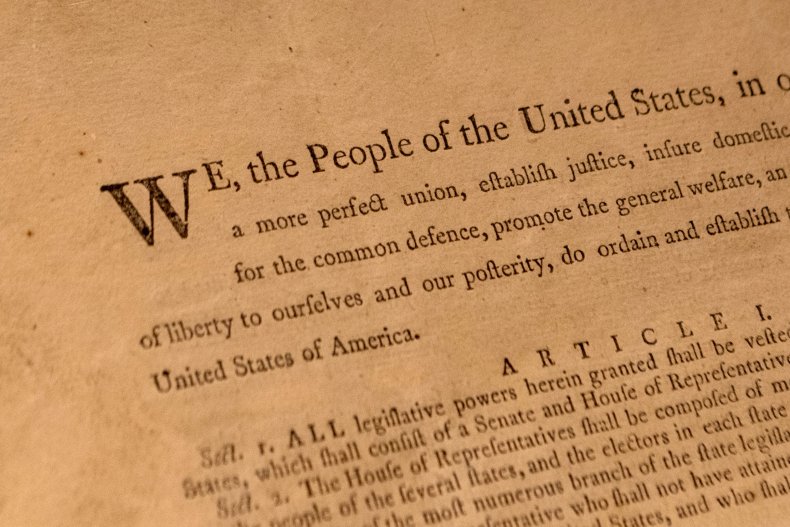 Opponents of the resolution in the Nebraska Legislature argued there would be no way to impose limits on the convention, according to the Omaha World-Herald. They also said there is nothing that details how the convention would be structured, such as if every state would have one vote or if votes would be proportional to population.
"The motivation for the convention is real and valid," said state Senator John McCollister, of Omaha, the World-Herald reported. "But there are simply too many questions outstanding."
Earlier this week, Wisconsin had become the 16th state to call for a convention, AP reported. It had been the first state to do so since Mississippi in 2019.
Other states approving a call for the convention are: Georgia, Alaska, Florida, Alabama, Tennessee, Indiana, Oklahoma, Louisiana, Arizona, North Dakota, Texas, Missouri, Arkansas and Utah, according to the Convention of States Action. There are also 19 other states considering the resolution.
The only way amendments have been made in the past is through Congress proposing them to the states under Article V of the Constitution, The National Constitution Center reported.
Update 01/28 10:23 PM E.T.: This story was updated to include comments from Nebraska state Sen. Steve Halloran.