Brain Eating Amoeba Appears to be Marching North Across U.S.
An 8-year-old boy has died in Nebraska after reportedly becoming infected with the brain-eating amoeba. If confirmed, this would be the first case in the state ever recorded and suggests the Naegleria fowleri is expanding further north in the U.S.
The boy, Easton Gray, was likely exposed to the amoeba when he went swimming in the Elkhorn River near Valley—a community located west of Omaha—on August 8, according to the Nebraska Department of Health and Human Services.
He began experiencing symptoms around five days after swimming in the river and was hospitalized two days after that, Douglas County health officials said. Tests are still being conducted to confirm that the amoeba was responsible for the child's death.
N. fowleri can cause a disease known as primary amoebic meningoencephalitis (PAM), which results in severe brain damage and has a fatality rate of more than 97 percent, according to the U.S. Centers for Disease Control and Prevention (CDC).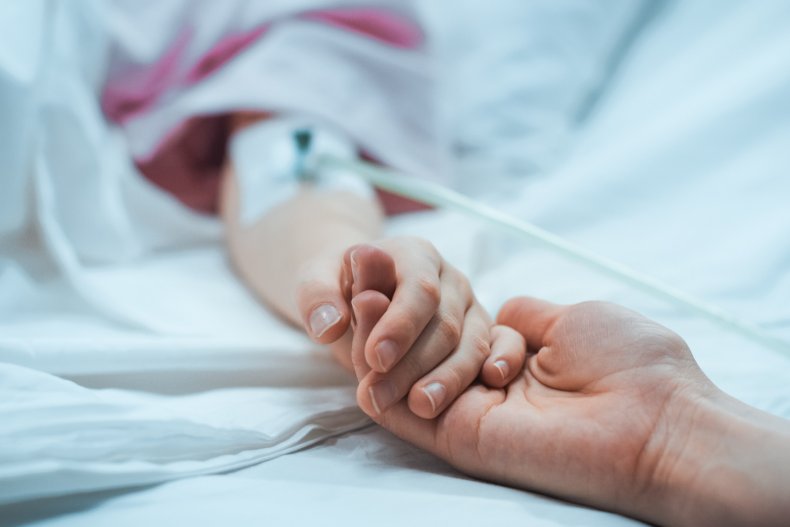 The amoeba is commonly found in warm freshwater, lakes, rivers, canals and ponds across the United States. But despite millions of exposures every year, infections—which usually occur when water containing the organism enters the body through the nose and it travels to the brain—are extremely rare.
In the period from 1962 to 2021, 154 cases of PAM were recorded in the U.S., with four of these individuals surviving the disease, according to the CDC. Most infections have occurred in southern states.
"Infections typically occur later in the summer, in warmer water with slower flow, in July, August, and September," Nebraska state epidemiologist Matthew Donahue said in a statement.
"Cases are more frequently identified in southern states but more recently have been identified farther north. Limiting the opportunities for freshwater to get into the nose are the best ways to reduce the risk of infection," he said.
A GoFundMe page has been set up by Monte Heiman and Daisy Smith to raise funds that will assist in covering the unexpected medical and funeral expenses incurred by the boy's family. So far, the page has raised more than $23,000.
"With extremely heavy hearts, we share the news that Easton Scott Gray tragically passed away on Wednesday, August 17, 2022," Heiman and Smith wrote on the GoFundMe page. "Easton was taken from our world after succumbing to a battle of a very aggressive, rare amoeba that entered his body while doing one of his favorite pastimes of swimming and enjoying the outdoors.
"As Easton was taken from the world too soon, we ask for your thoughts and prayers for his family and friends as they mourn this incredibly tragic period."
N. fowleri infections usually occur when temperatures are warm for extended periods of time. Douglas County health officials said unusually warm water along the shore of the Elkhorn River likely provided ideal conditions for infection to occur in this case, the Omaha World-Herald reported.
Easton's death would represent one of the most northern cases of N. fowleri. The only case further north would be in Minnesota, where two cases have been two cases between 1962 and 2021.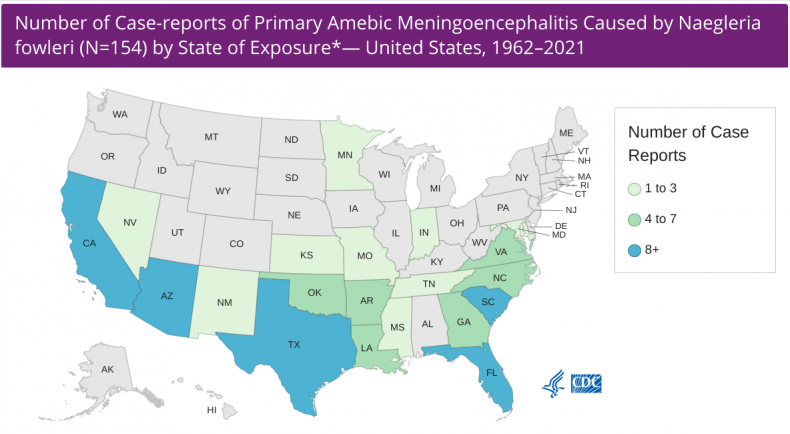 The CDC says N. fowleri has been moving across the states with a "statistically significant northward trend" since 2010. The shift could be the result of climate change. Warmer temperatures could be allowing the amoeba to move into areas where it would not normally have survived.
Jennifer Cope, medical officer at the CDC's Waterborne Disease Prevention Branch, previously told Newsweek: "Where Naegleria fowleri infections occur in the United States is changing.
"In 2010, the first Naegleria infection was reported from Minnesota, 600 miles farther north than any previously reported case. We are seeing a statistically significant northward trend in the latitude of water exposures among U.S. recreational water-associated cases.
"Climate change can potentially be a factor as we know that Naegleria grow and live in warm freshwater environments, but we don't know to what extent."