Nebraska GOP Rep. Endorsed by Democrat Challenger He Beat in 2016
A Republican candidate for the House of Representatives in Nebraska has been endorsed by his 2016 election rival from 2016, a Democrat.
GOP incumbent Don Bacon has won the support of his 2016 challenger, former Democrat Representative Brad Ashford, according to a statement by Ashford to the local newspaper The Omaha World-Herald.
"It was my intention to remain neutral in this Congressional race. However, more than ever we need unifiers not dividers in Congress," the former congressman said.
Ashford completed one term representing Omaha's 2nd District in the House of Representatives from 2015 to 2017. The seat had been held by Republican Lee Terry from 1999 until 2015, and in the 2016 election was won back by Bacon.
"We need to send Don Bacon back to Congress to work across the aisle to meet the challenges we face as a state and a nation," Ashford said.
"He has demonstrated time and again that he will put people above party to find bipartisan solutions."
Ashford attempted to win back the seat against Bacon in 2018, but lost to Kara Eastman in the Democratic primary.
He announced his endorsement for Bacon shortly before the current Republican candidate was set to debate his challenger, Eastman, who is running again this year against Bacon.
Ashford's wife, Ann Ashford, also ran for the Democratic nomination this year, but lost to Eastman.
Before running for Congress, Brad Ashford had held office twice in the Nebraska Legislature, as a Democrat and as a Republican.
Drawing from his own bipartisan record, he said in his statement that Bacon has followed a similar road since 2017 by supporting protections for those brought into the country illegally as children and working to keep private health insurance for families.
"I'm grateful for Brad Ashford's friendship and endorsement. I've worked hard to build consensus and find compromise in Congress, and I know Brad did the same," Bacon told Newsweek.
"We've worked in a bipartisan way that has brought tangible results for our local VA and Offutt AFB. Not only is that the Nebraska Way, but it is what this district demands of a Representative. Brad has been the epitome of a servant leader for our state and I thank him for his support."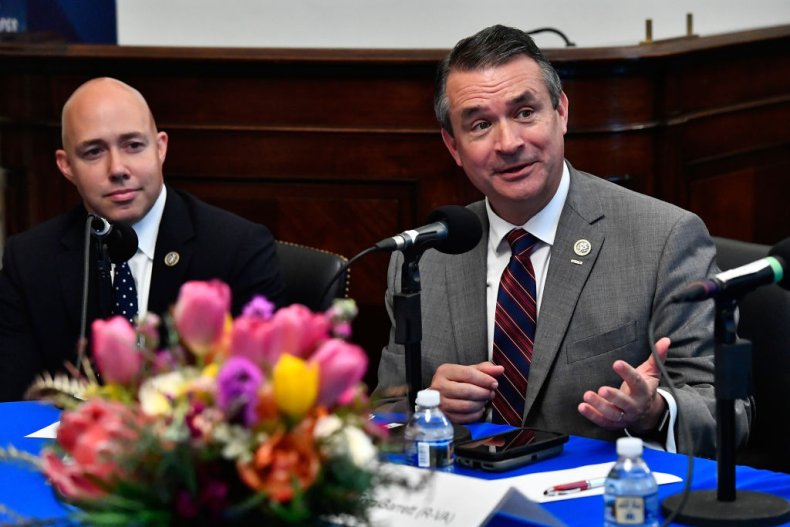 The other incumbents running for House re-election this year are the Republican representatives Jeff Fortenberry, who represents Nebraska's 1st District, and Adrain Smith, who has represented the state's 3rd District since 2007.
Running for the upper house in Congress is incumbent Senator Ben Sasse, who will fight the November 3 election against Democrat candidate Chris Janicek.
Janicek faced calls to resign by his fellow Nebraska Democrats since the summer after it was revealed that he had sent sexually explicit text messages about the campaign's fundraising director to a group that included her.
The state's second senator, Republican Deb Fischer, will hold her seat until 2025. She was first elected to the Senate in 2012.
Update 10/09/20, 12:55 p.m. ET: This article was updated to include Don Bacon's statement.