Nebraska Governor Pete Ricketts Says Biden COVID Plan Penalizes States That 'Did The Right Thing'
Nebraska Governor Pete Ricketts criticized the method through which the upcoming coronavirus relief package intends to allocate funding to states, suggesting its approach disadvantages those that managed economic fallout more successfully during earlier parts of the pandemic.
"You're penalizing people who have done the right thing," said Ricketts, a Republican politician first elected to lead Nebraska in 2015, according to the Associated Press. "That's not the way you want to approach any sort of government program."
His latest remarks come as the U.S. Senate prepares to begin debating the terms of a third COVID-19 stimulus bill, backed by President Joe Biden, which endeavors to offset economic consequences of the ongoing national virus outbreak. Details of the proposed legislation, approved by members of the House of Representatives over the weekend, depart from previous relief packages passed in a number of ways.
One is its method to determine state funding. Where past legislation effected under former president Donald Trump allocated state funding based on population, the current bill seeks to provide greater sums to states where jobless rates are higher than others.
Almost two dozen governors, including Ricketts, pushed back against this area of Biden's COVID-19 relief proposal following its passage in the House. All are Republicans outside of one, Kansas Governor Laura Kelly. The group, led by South Carolina Governor Henry McMaster, released a joint statement on Sunday that argued the funding stratagem "punishes states that took a measured approach to the pandemic and entered the crisis with healthy state budgets and strong economies."
Nebraska's statewide unemployment rate stood at just 3 percent in December of 2020, according to the U.S. Bureau of Labor Statistics. It was the country's lowest alongside South Dakota.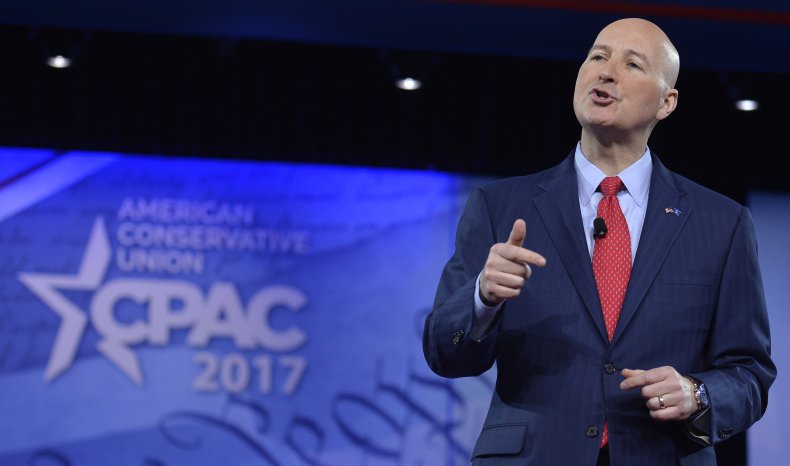 For more reporting from the Associated Press, see below.
The $1.9 trillion relief bill working its way through Congress allocates extra money to larger, mostly Democratic-run states with higher unemployment rates, while rural Midwestern and Southern states that tend to have Republican governors and better jobless numbers would benefit less.
If the new funding formula is approved, states including California, New York and New Jersey would each see a boost of more than $2 billion, while Iowa, Missouri, Nebraska and Ohio would all see aid reductions greater than $500 million. Georgia and Florida would see losses of more than $1.2 billion.
Many of the Republican-led states have taken a more hands-off approach to the pandemic to try to keep businesses open, while Democratic states argued that tighter mandates were necessary to save lives and help their economies over the long term.
The White House defended President Joe Biden's distribution plan, saying it targets money to areas where it will have the biggest impact.
"President Biden's rescue plan is focused on quickly getting help to the people and communities that need it most," said Michael Gwin, director of White House rapid response.
Critics argued that many of the hardest-hit states had higher jobless rates even before the pandemic began.
"Some states just have naturally lower unemployment rates," said Ernie Goss, an economist at Creighton University in Omaha. "That's one of the problems with doing it that way."
Goss said it might make more sense to distribute aid to states that saw the biggest increases in unemployment during the pandemic. But he cautioned that the unemployment rate is still an incomplete measure of any state's economy, because it doesn't count people who have stopped looking for work.