Nebraska, Midwest Flooding Maps, Update: Nuclear Plant Braces for Rising Waters, Prepares for Shutdown
Historic flooding in the Midwest has compromised a dam in Nebraska, killed at least one man and threatened the closure of a nuclear power plant. Heavy rains and melting snowpack caused unprecedented water levels.
The National Weather Service released flood maps and said flooding is expected to continue through the weekend and lingering into the following week along the Missouri River.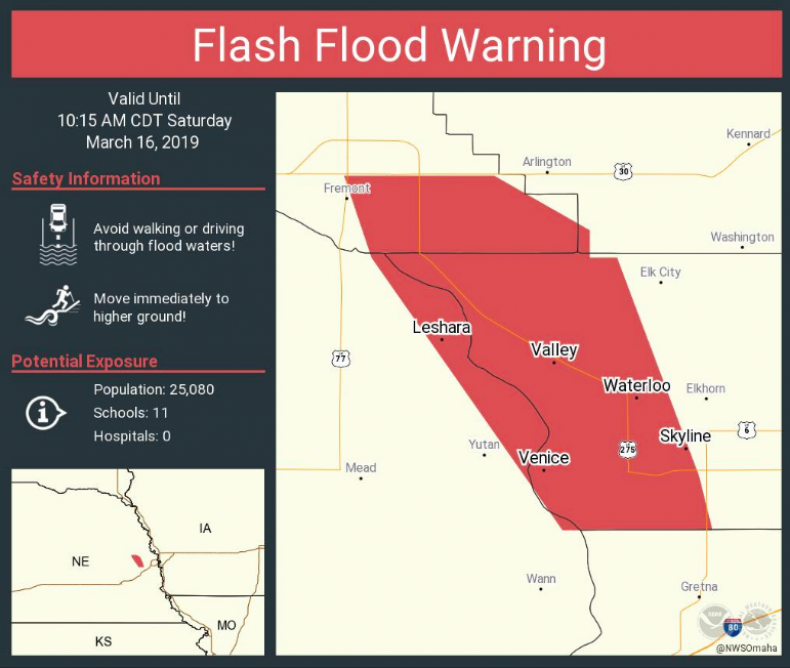 Cooper Nuclear Station, Ericson Dam and Spencer Dam
Cooper Nuclear Station, a nuclear power plant in Nebraska, took precautions as the Missouri River continued to rise.
Mark Becker, a spokesman for Nebraska Public Power District, told Newsweek that the nuclear station was operating safely at 100 percent output. On Tuesday, the company began emergency preparations, including sandbagging and barricading facilities.
Becker noted that a Notice of Unusual Event was declared at 5:46 a.m. on Friday after the Missouri River reached 899 feet. The plant plans to use an Alert and shut down the reactor if and when the river reaches 902 feet.
The National Weather Service river gauge upstream from Cooper Nuclear Station was swept away, so measurements from the plant were being shared with the NWS, Becker told Newsweek. "Projections earlier this morning, based on the gauge when it was functioning, indicates we could reach 902 or higher after midnight," he said.
"I would not say the plan is in danger as it is operating safely at 100 percent and would be taken off line safely as well if necessary," Becker said. "There is no risk to the public or employees as we continue to operate and all safety procedures established for flooding conditions will be followed."
Meanwhiel, Ericson Dam in north-central Nebraska appeared to be holding despite flooding at Cedar River. Boone County officials had initially reported the "imminent failure" of the Ericson Damn, but on Friday it appeared to be holding.
The same cannot be said for the Spencer Dam, which failed at the Niobrara River. The failure caused a large ice floe to create a hole in a building.
The Knox County Sheriff's Office confirmed that the Spencer Dam had been "compromised." The sheriff's office said it was trying to contact residents along the Niobrara River to evacuate them. Dozens of residents were later evacuated, The Weather Channel reported.
The dam failure also appeared to have damaged a bridge on Highway 281. Nebraska State Patrol tweeted a photo that showed the bridge, located over the Niobrara River south of the dam, had been washed away.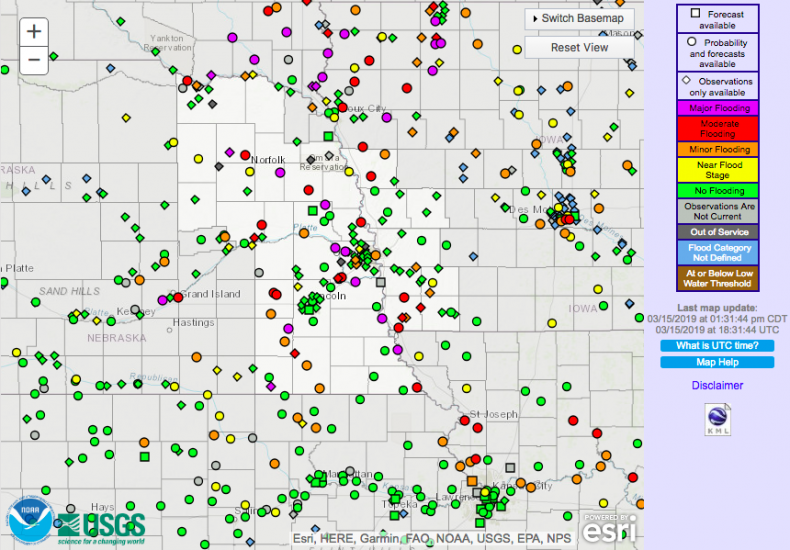 On Friday, the National Weather Service office in Omaha, Nebraska, was forced to evacuate due to river flooding. Valley County, Nebraska also announced a mandatory evacuation of all residents early on Friday.
An emergency declaration was issued on Tuesday by Nebraska Governor Pete Ricketts and an emergency disaster proclamation on Thursday by Iowa Governor Kim Reynolds.