Nebraska State Senator Who Called for COVID Herd Immunity Contracts Virus: 'I Finally Got My Wish'
A Nebraska state Senator, who advocates herd immunity to address the COVID-19 pandemic, was diagnosed with the novel coronavirus, saying: "I finally got my wish."
State Senator Mike Groene, a Republican from North Platte, told colleagues in a Monday email that he had contracted COVID-19 and would not be attending legislative meetings and events this week, The Lincoln Journal Star reported. "As you know, I finally got my wish and cont[r]acted the COVID-19 virus," Groene wrote in the email. "As I suspected it would happen." He told the Journal Star that he hopes for herd immunity.
"I am of the age where as a youth I had the mumps, measles and small pox, the practice back then was to try to have your children acquire those diseases as young as possible," Groene told Newsweek in an email. "So when I stated I was glad to get the inevitable infection of COVID-19 over, it was in that vein I was thinking.
The GOP lawmaker described his symptoms as "no more than a minor flu," and said that contact tracers for Nebraska's Department of Health and Human Services told him that he may be able to leave quarantine as early as Tuesday of this week. Groene believed that he had caught the virus at legislative committee hearings on October 23 or 27.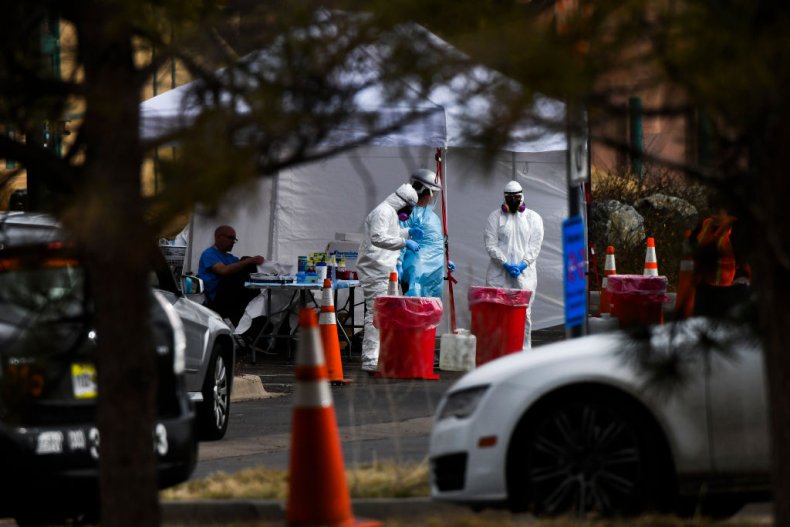 "I had it, I got over it, and everything's fine," he told the Journal Star. "I have no unique story. This happens 99.9 percent of the time."
In his email to Newsweek, Groene said he's been belittled by some since revealing his diagnosis.
"The fanaticism and attacks on me are amazing. I am told shut up and follow the party line, that line being whatever the sender's personal COVID opinion is," he said.
Public health experts and doctors—including key White House Coronavirus Task Force member Dr. Anthony Fauci—have strongly pushed back against calls for herd immunity. Fauci, the director of the National Institute of Allergy and Infectious Diseases, had a heated exchange with Senator Rand Paul, a Kentucky Republican, during a Senate hearing in September after the lawmaker claimed that New York City was now benefiting from herd immunity after being hit hard by the pandemic in the spring.
"I challenge that senator," Fauci said forcefully in response to Paul at the hearing. "I want to—please sir, I would like to be able to do this, because this happens with Senator Rand all the time," the doctors said as the allotted time to answer the question was running out. "You are not listening to what the director of the CDC said, that in New York, it's about 22 percent [immunity]. If you believe 22 percent is herd immunity, I believe you're alone in that," he said.
Seeming to prove Paul wrong, New York City saw a surge in new cases in areas of Brooklyn and Queens in early October—the same boroughs of the city hit hardest by the pandemic in the spring. Some of the impacted neighborhoods had been warned over low compliance with city requirements regarding mask-wearing and social distancing.
Herd immunity requires a large enough portion of the population to recover from a virus, or be vaccinated, in order to prevent it from spreading throughout the community. Health experts estimate that at least 70 percent of a population must catch and recover from a virus—or be vaccinated—in order to achieve herd immunity. In the U.S., this would require more than 200 million people to be infected with COVID-19.
As of the time of writing, the U.S. has recorded more than 10.3 million COVID-19 infections and over 240,000 deaths. That means the U.S. death rate has been approximately 2.3 percent. If the mortality rate remained steady, and 200 million people were infected, some 4.6 million people would be expected to die.
The pandemic is currently surging in Nebraska, as it is in most states throughout the country. The midwestern state has reported a total of close to 88,000 infections and 741 deaths, according to the tracker by The New York Times. Infections have increased 129 percent over the past two weeks, with the seven-day average of new daily cases standing just below 2,000.
Update, 3:30 p.m., 11/11/20: This story has been updated to include comments from Groene.