Why is Nebraska's UNL Closing Phi Gamma Delta Fraternity? Protests, Allegations Explained
The Phi Gamma Delta (Fiji) fraternity at the University of Nebraska–Lincoln (UNL) has been closed following a sexual assault incident reported at its frat house on Monday.
Nebraska's KOLN reported hundreds of students protested outside the fraternity house on Tuesday evening, chanting: "What do we want? Justice."
In a statement on August 25, the university's chancellor, Ronnie Green, said UNL police launched an investigation of the allegation "as soon as the report came in" and that it remains ongoing.
Green stated Fiji is currently under probation for previous violations of university policy. The fraternity was suspended back in 2017 following a university investigation at the time.
Green said Wednesday: "We are closing the fraternity house and suspending operations of the Fiji chapter while this investigation is ongoing, due to potential violations of that probation. This is the responsible action to take for everyone involved.
"We take any allegation of sexual assault very seriously," Green said. "We are committed to creating a safe campus environment for our students, faculty and staff."
According to campus crime logs, the sexual assault incident was reported at the Fiji fraternity house (located near 14th and R streets) between 11:30 p.m. and 12:00 a.m. local time on Monday.
According to KOLN, UNL's University Police Department also received a report of a wild party at the fraternity house around the time of the alleged sexual assault.
In a statement Wednesday, the executive director of Phi Gamma Delta, Rob Caudill, said the fraternity "takes these allegations very seriously and does not tolerate sexual violence."
Caudill said the fraternity's chapter at UNL is "cooperating with local authorities" in the investigation of the latest sexual allegation made against one of its members.
He added: "The International Fraternity is working with the University and will take appropriate action pending the findings of the investigation."
What Is the Phi Gam (Fiji) Fraternity?
Phi Gamma Delta (nicknamed Phi Gam or Fiji) is a fraternity that was founded on May 1, 1848 at Jefferson College in Canonsburg, Pennsylvania. It has initiated more than 201,000 members since its launch and has 141 chapters across the U.S. and Canada.
Friendship, knowledge, service, morality and excellence are listed as the fraternity "values," according to its official website.
The fraternity's vision is "to be an active, vital force of men who courageously live our values and make a positive impact on college and community," according to its website.
The website of Phi Gamma Delta at UNL says it is "committed to providing opportunities to each Brother to develop responsibility, leadership, scholarship and social skills to become a fully contributing member of society."
Prior Suspension of Fiji Following Investigation

Back in March 2017, the fraternity was suspended until May 2020 following a university investigation that revealed "a pattern of behavior and a series of instances within the fraternity in violation of the Student Code of Conduct," according to Juan N. Franco, who was the school's vice chancellor for student affairs at the time.
According to the university's statement at the time, the behavior included "reckless alcohol use, hazing and inappropriate sexually based behavior, including a pattern of sexually harassing conduct. The conduct occurred in multiple incidents at various points in time over the course of recent academic terms.
"While not the focal point of the suspension, comments made by Fiji members Jan. 21 outside the fraternity house during a women's march were consistent with the pattern of sexually harassing conduct evident in multiple other incidents," the statement said at the time.
The suspension meant at the time that the school "no longer recognizes Phi Gamma Delta, also known as Fiji, as a greek organization at Nebraska."
Fiji was allowed to petition for reinstatement in 2019 but this was "contingent upon the fraternity taking steps toward lasting reform, including a review of membership, increased oversight, education and other requirements," Franco said at the time.
Following reinstatement in 2019, the fraternity was to be placed on a probationary period for an additional two years.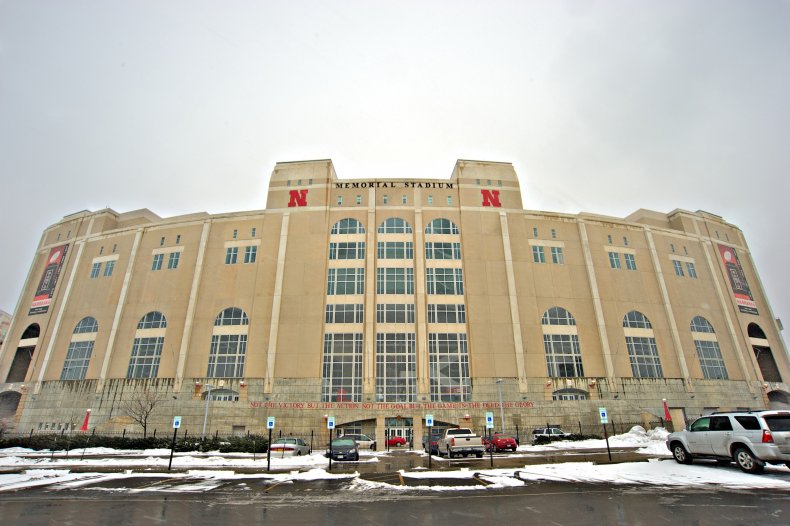 Protests and Sexual Assault Allegations
KOLN reported crowds of students began forming near the fraternity house around 10 p.m. local time on Tuesday. They were reported to be chanting: "What do we want? Justice" and "If we don't get it, what do we do? Shut it down!"
The UNL police department and Lincoln police were at the scene of the protests, according to Nebraska's KLKN.
A petition to "Ban Fiji Forever" at UNL was launched on Change.org, which had more than 150,000 signatures at the time of reporting.
The petition read: "Fiji or Phi Gamma Delta needs to pay for their actions. 13 girls have been raped so far as to be left on the lawn naked and bleeding. If you think that these people and this institution should face consequences sign this let's get them removed."
One user, Makenzie Falcon, alleged: "I was sexually assaulted by a FIJI member when I was an undergraduate student. I know numerous others who were raped and molested by FIJI members.
"We ALL took it to Title IX and discouraged us from taking our assaults to the police. These assailants were suspended, expelled, etc., but never found "guilty." And FIJI is still there. Men like this are still there. FIJI is a petri dish for rape culture. They don't belong in the UNL Community," Falcon claimed in a comment posted on the petition website.
The UNL website explains Title IX is a federal law that "prohibits discrimination based on sex in education programs and activities in federally funded schools. Title IX protects all students, employees, and other persons from all forms of sex discrimination."
The university's Title IX coordinator is responsible for "ensuring UNL complies with Title IX and other related laws," among other duties.
Newsweek has contacted UNL, including the university's Title IX coordinator, as well as Phi Gamma Delta, the UNL police department and Lincoln police for comment.