Nebraska Waitress Gets 5 Cent Tip, Told 'Get Rid of Masks' by Customer
A waitress in Nebraska was reportedly left just a five cent tip by a man who was expressing his disappointment at the restaurant for imposing a city-wide mask mandate.
Ali Siverhus, who works at the Big Red East in Lincoln, posted photos of the receipt left by a customer onto social media.
According to Siverhus, after serving the man and his child, the customer left a five cent tip on a $38.20 bill along with the words "get rid of masks, tips will be bigger."
Siverhus described the actions of the customer as "wrong on so many levels" while posting the images.
"First and foremost, the masks are a city mandate and there is nothing I or management can do about. How is me wearing a mask affecting his health? Here in Lincoln, restaurant customers are not even required to wear masks at the table.
"Secondly, servers make less than $3 an hour typically, so our entire pay depends on tips," she added.
"I was very nice to this guy and his young son. They got their drinks and food on time and when I asked them how everything was tasting he said it was good and had no complaints."
Siverhus said that she hoped the man's son didn't see him leave the five cent tip and the boy "doesn't turn into the piece of s**t you are."
Lincoln Mayor Leirion Gaylor Baird imposed a city-wide mask mandate last month requiring people to wear face covering when they are in an indoor space to help prevent the spread of COVID-19.
Exceptions are made when people are seated at a bar or restaurant to eat or drink, exercising or have medical reasons not to wear a mask
The move has been met with backlash since it came into effect on July 20, including from Nebraska Governor Pete Ricketts.
Siverhus' tip was discussed during a segment on KOLN about those who have been taking their frustrations out on those in the service industry by not leaving tips.
"When you go into restaurants and you lash out at your server and write mean notes or tip purposely mean amounts to try and undermine them, you are affecting someone's livelihood," Sheena Ammon, another server at a restaurant in Lincoln, told KOLN.
"You might be making a political statement, but we're just doing what we're told to do.
"We're not asking for giant tips," Ammon added. "We're asking for people to be respectful and know we're doing the very best we can."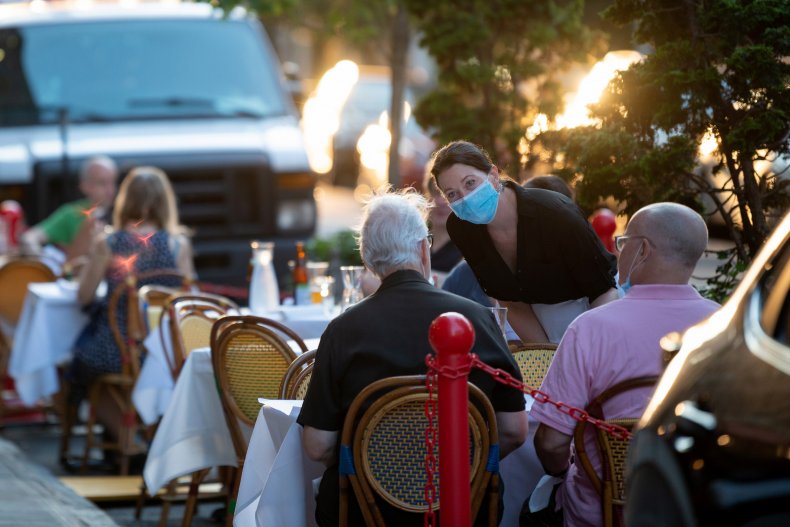 Siverhus has been contacted for further comment.
There have been more than 26,600 confirmed cases of COVID-19 in Nebraska, with at least 332 deaths according to Johns Hopkins University.
Overall, 1,513,446 people have managed to recover from the virus in the U.S.
This graph, provided by Statista, shows the states with the most confirmed cases of COVID-19 as of August 3.