Nebraska's Outgoing Governor Correctly Predicts How Trump's Candidate Lost
Term-limited Nebraska Governor Pete Ricketts successfully predicted how his successor would be decided in the state's Republican primary on Tuesday night.
Less than an hour before the gubernatorial primary was called by the Associated Press, Ricketts told KHGI-TV that Nebraska's 3rd Congressional District would decide the race in favor of University of Nebraska Regent Jim Pillen. It was during the counting of those ballots from central and western Nebraska that Pillen clinched the nomination.
The outgoing governor had endorsed Pillen in the primary, catalyzing a proxy battle between himself and former President Donald Trump, who fiercely backed agribusiness owner Charles Herbster even amid allegations of sexual assault that were revealed last month.
Pillen, Herbster and state Senator Brett Lindstrom were all viable candidates to win the race that polls showed to be in dead heat.
Before the election was called, Ricketts took the stage at Pillen's election night party. While he reminded the crowd that the counting of ballots could go late into the night, he said he was convinced that his candidate would be the next governor of Nebraska.
The race was called roughly two and a half hours after polls closed, with Pillen being projected to win the Republican nomination after he secured more than a third of the GOP vote.
With more than 70 percent of votes counted, Herbster received 28.8 percent of support while Lindstrom received 27.3 percent.
Pillen's victory also marked an end to Trump's 55-0 streak of picking the winner of the GOP primaries this midterm cycle—22 of his Ohio and Indiana endorsements won their races, while 33 of his Texas candidates did the same.
In recent weeks, Trump has remained steadfast in supporting his longtime ally.
When the Nebraska Examiner broke the story that eight different women—including Republican state Senator Julie Slama—were accusing Herbster of sexual assault, Trump announced he would be holding a rally in his first visit to the state since the 2020 presidential election. Herbster has denied any wrongdoing.
On the other hand, Ricketts called on Trump's candidate to drop out of the race.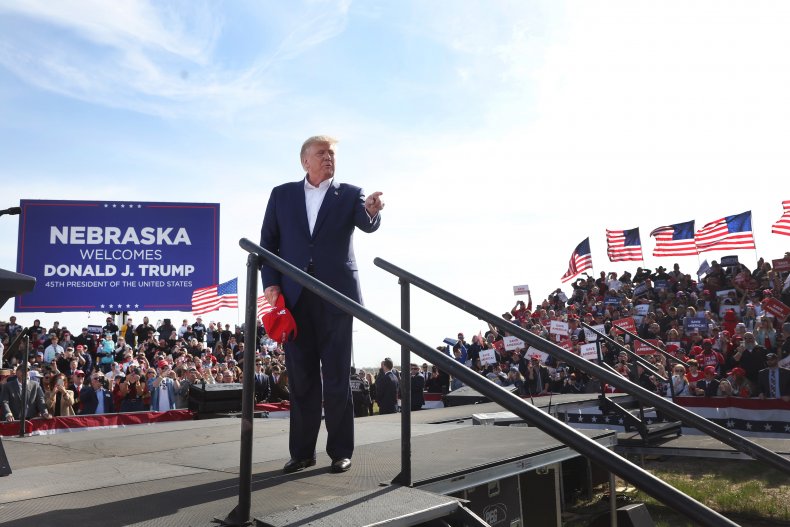 Earlier this month, Politico reported that Ricketts had previously asked Trump to avoid weighing in on his home-state politics.
The governor's feud with Herbster dates back to the 2014 gubernatorial race in which the businessman financed one of Ricketts' opponents. The two were also at odds when Slama, who was backed by Ricketts, beat out Herbster's state legislative candidate in a primary challenge.
On Tuesday night, the outgoing governor told reporters that Pillen would win because he's a Nebraskan and not from Missouri. Despite being born in Nebraska, Herbster's Conklin Company has its manufacturing headquarters based in Kansas City.
"Nebraska voters made it clear tonight that they value conservative leadership that represents their Christian, conservative values," Pillen said in a statement declaring Tuesday night's victory. "I want to thank all those across our great state who helped put our campaign over the top tonight. Tonight, we will celebrate a great victory. Tomorrow, it's back to work in the fight to keep Nebraska great."