Ned Beatty Lied 'Like a Snake' to Get Oscar-Nominated Role in 'Network'
The late Ned Beatty "lied like a snake" to get his role in the 1976 film Network.
Tributes are pouring in for the veteran actor who has passed away at the age of 83.
Well known for his roles in films like Deliverance, Homicide: Life on the Street and Superman, the celebrated character actor's passing on Sunday morning was confirmed by his manager Deborah Miller.
"His family has decided to keep details private at this time," Miller said in a statement to The Wrap. "Ned was an iconic, legendary talent, as well as a dear friend, and he will be missed by us all."
Beatty made his mark in Hollywood in the 70s for his role in the 1976 dark comedy film, Network in which he starred alongside Peter Finch and Faye Dunaway.
Journalist Dave Itzkoff shared a memory on Twitter from a few years ago in which he says Beatty "told me the extraordinary story of how he won his role in NETWORK after a meeting with Paddy Chayefsky and Sidney Lumet. May he rest in peace."
Paddy Chayefsky was the writer behind the film, while Sidney Lumet directed the feature.
Itzkoff shared an excerpt from his book Mad as Hell: The Making of Network and the Fateful Vision of the Angriest Man in Movies, which shares the behind-the-scenes story of the making of the iconic movie.
In the extract shared, Itzkoff quotes Beatty telling Lumet and Chayefsky how he had a better offer for more money but that it was a tactic to get the job.
"I was lying like a snake," the book quotes Beatty as recalling, "gleefully."
He continued: "I think they liked the fact that I was at least trying to be sly. I was doing something that maybe might be in their lexicon."
He went on to clinch an Academy Award nomination for his performance as Arthur Jensen, the TV exec who convinces anchorman Howard Beale (Peter Finch) to come around to his way of thinking.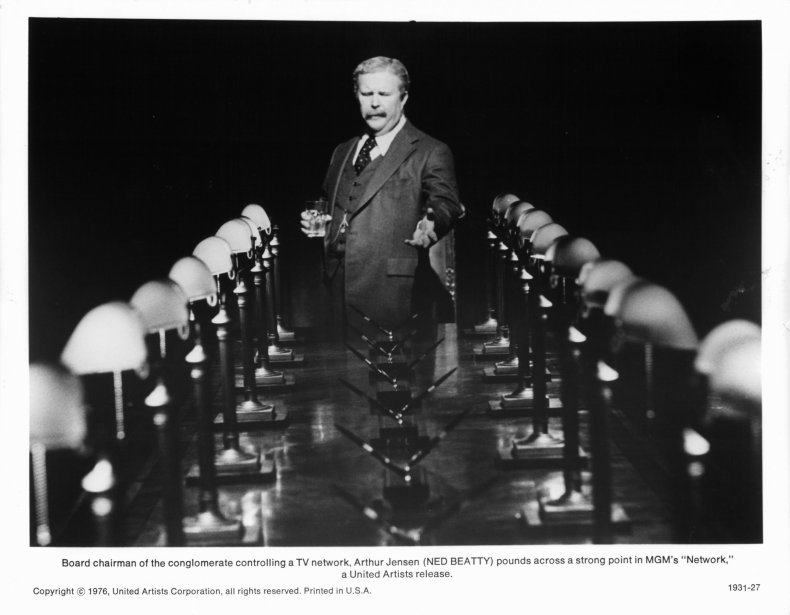 The movie is well known for its unforgettable scene in which Jensen roars the line: "You have meddled with the primal forces of nature, Mr. Beale, and I won't have it!"
A number of celebrities have paid tribute to Beatty and his performance in Network this morning with Seth Rogen tweeting: "RIP Ned Beatty. Here's one of the greatest monologues ever in a movie..."
Actor Marc Maron wrote: "RIP Ned Beatty. One of the all time best."