Serbian Magazine Investigates Possible Fake Trump Interview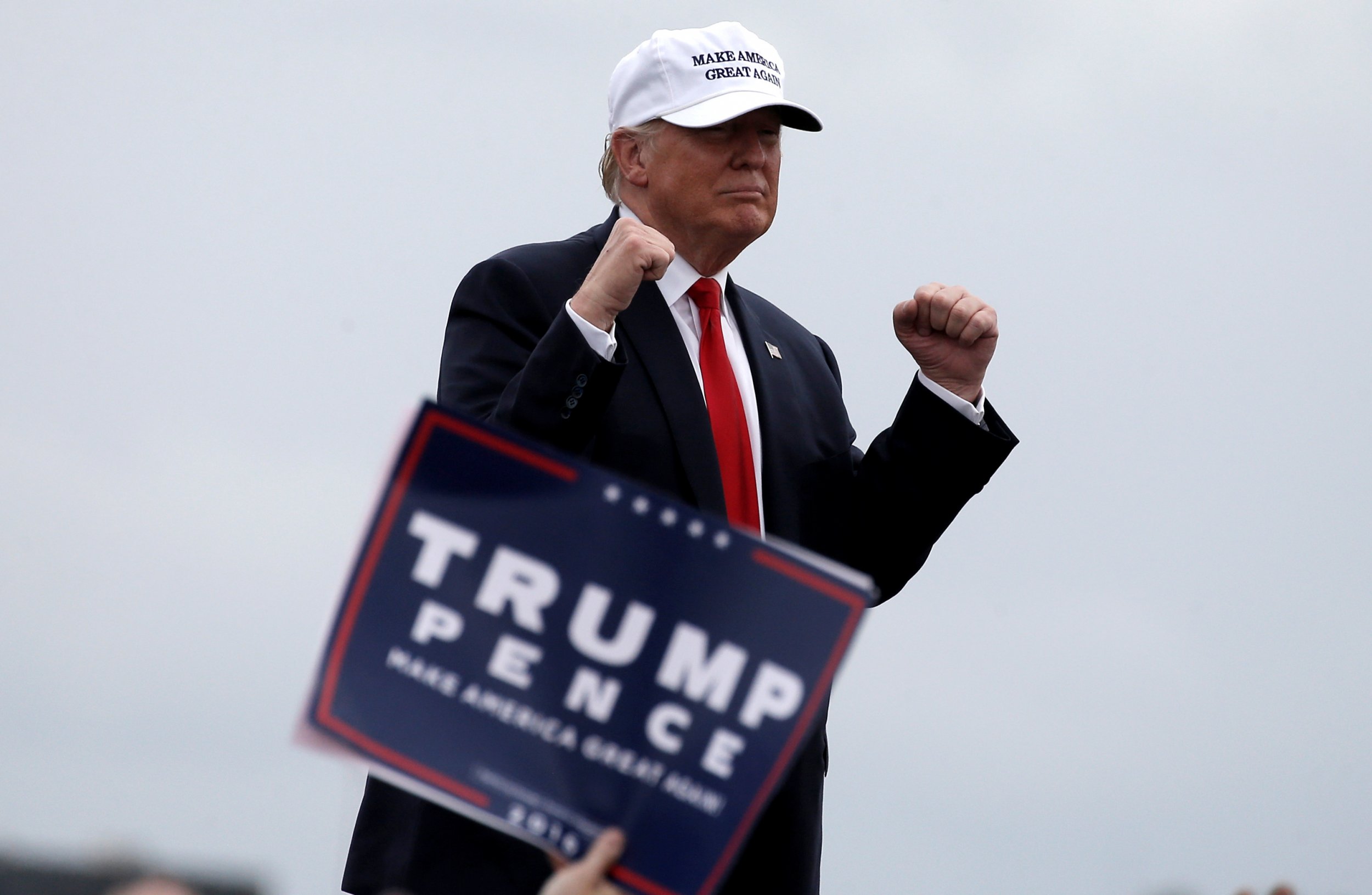 A Serbian weekly magazine that published a cover story on what it said was an interview with Donald Trump has issued a statement saying it may have been the subject of a hoax. Nedeljnik said it may have been deceived by Vladimir Rajcic, a Serbian American who said he had ties to the Trump campaign.
Nedeljnik had quoted Trump as saying: "The bombing of Serbs, who were our allies in both world wars, was a big mistake...Serbians are very good people. Unfortunately, the Clinton administration caused them a lot of harm, but also throughout the Balkans, which they made a mess out of."
Newsweek picked up the report on Thursday and was informed by Nedeljnik's managing editor, Marko Prelevic, that the interview was conducted via email with Suzanne Jaworowski, Trump's Indiana state director. Prelevic also showed Newsweek the email correspondence between Rajcic and an email address that appeared to belong to Jaworowski. Rajcic and Jaworowski have not yet responded to Newsweek's repeated requests for further comment. Below is the email correspondence that was forwarded to Newsweek and also published on the Nedeljnik website.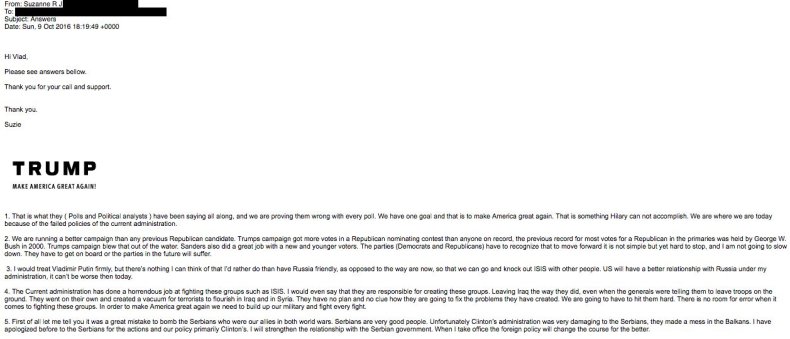 On Thursday, Jason Miller, senior communications adviser to Trump, said the campaign never gave an interview to Nedeljnik. "This was a hoax and we look forward to receiving a formal retraction and apology from all involved," Miller said in an emailed statement. Hope Hicks, a spokesperson for the Trump campaign, told Newsweek on Friday that "there is absolutely no record of correspondence with this individual and any person on our campaign," and reiterated that it was a hoax.
In an online post on Nedeljnik, Rajcic defended the piece, saying the interview was genuine and that he would provide further evidence to back that up as soon as possible. Nedeljnik has since taken the original article offline and said it was investigating the story, issuing an online statement in Serbian on Thursday evening here; the magazine also provided Newsweek with the English-language statement below:
We are writing this in order to explain the full truth of what has happened and to give every proof about the interview that has been one of the topics of the day in the foreign and American media.
We were trying to get the interview with Mr Donald Trump for more than a year now. The formal ways didn't work, so we turned to Mr Vladimir Rajcic, a Serbian born actor and producer who lives in the United States, and who offered us proof of being close to Mr Trump's running mate Mike Pence and offered to help us get this interview.
We sent the questions to him in September, before the last - of numerous scandals - of Mr Trump.
We waited paitently for the answers, knowing that a small country like Serbia isn't high on the list of priorities in this prolonged and dirty campaign.
We finally got them, signed by Suzanne Jaworowski, who works at the Trump campaign in the state of Indiana.
We checked her credentials and chose to believe a guy who sent us email correspondence and photographs.
We were told that Mr Trump listened to our questions, that he was eager to get votes of Serbian Americans, especially in swing-states. We have never been refuted, in 250 issues of Nedeljnik. Not a single false information found its way to our pages.
But then the Trump campaign said that it was all a hoax. That the email interview did not happen.
We are trying to explain how all this came to be. Could it be that the Trump campaign got scared when the media outlets ran a story in which he apologizes to Serbs who were the "bad guys" in the 90's?
It wouldn't be the first time that Trump and his aides got caught in a lie.
There is, of course, another possibility, and we are looking into it in order to retain our credibility.
That's a simple enough answer: we were hoaxed by Mr Rajcic, although he remains adamant that the interview was genuine.
If this is the case, we take all the blame. We chose to believe a person who gave us all the proof that we asked, and we weren't professional enough to doubt it.
We apologize to our readers because of that.
Nedeljnik