Need a Ride? Watch This Little Boy Prove He's Mommy Favorite Getaway Driver
In this wholesome and hilarious Reddit video gone viral, a suburban mother and her young child attempt to have a fun adventure together, while driving around in a motorized toddler car.
Posted earlier today on the subreddit r/aww, the short video starts out with the matriarch squeezing herself into the passenger seat of the electric car for kids. The youngster has to act as her designated driver because she has a glass of red wine in her hand. Notice how steady her hand is! Not a single drop of wine has fallen from the glass the entire time!
Sure built to last, the toddler car was strong enough to carry both of their weight and not collapse. And then, the car made a right turn and headed straight down the block. Now that's a long-lasting battery for a kid's electric car!
While watching the viral vid, viewers might have noticed something odd in the quiet and empty suburban neighborhood. What's stranger than a mother and son driving around in a toy car you say? Towards the end of the clip, there's a purple car parked sideways in front of a garage. In order for the purple car to leave, the vehicle has to drive through the house's garden.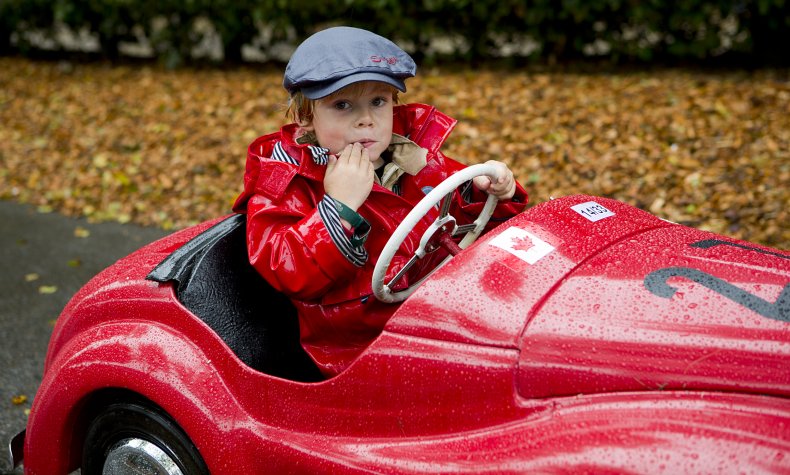 Ohh_Yeah also noticed, "Haha! Sorry! It was just the first thing that came to mind when I saw this car parked sideways blocking any cars that might be in the garage."
I personally laughed out reading the comments. Reddit users clearly had jokes. Dr_Frasier_Bane stated, "Mama doesn't get drunk. She just has fun!"
Azzanine mentioned what I was already thinking, "I'm surprised that toy can hold an adult's weight, and the kid."
And then, every Reddit user became an expert on penalties and car fines. User20300424 teased, "Yup. Open container. $150 fine. Underage driving without a permit. $300 fine. Whoa! Car didn't pass inspection? $100 more."
The mother and son definitely have a fun and wonderful memory together that will last them a lifetime.