Neera Tanden, Who Lost Cabinet Role Over Toxic Tweets, Finally Gets Job From Biden
Neera Tanden, who formerly withdrew her name from consideration as President Biden's pick for director of the Office of Management and Budget (OMB), will now join Biden's administration as a senior adviser to the president, a White House official said Friday.
Tanden will use her expertise in health policy to prepare for any policy changes the administration may face in the future regarding the Affordable Care Act (ACA), according to a CNN report.
A decision is expected from the Supreme Court regarding Republican efforts to dismantle the ACA, also known as "Obamacare." Since Tanden worked in the Obama administration when the Affordable Care Act was written and implemented, she is in a reasonable position to deal with any future legal upsets and their following ramifications.
Another of her projects will be to spearhead a review of the U.S. Digital Service, which works to better provide government services to the American people through technology, according to their website, as well as administers IT services to federal agencies.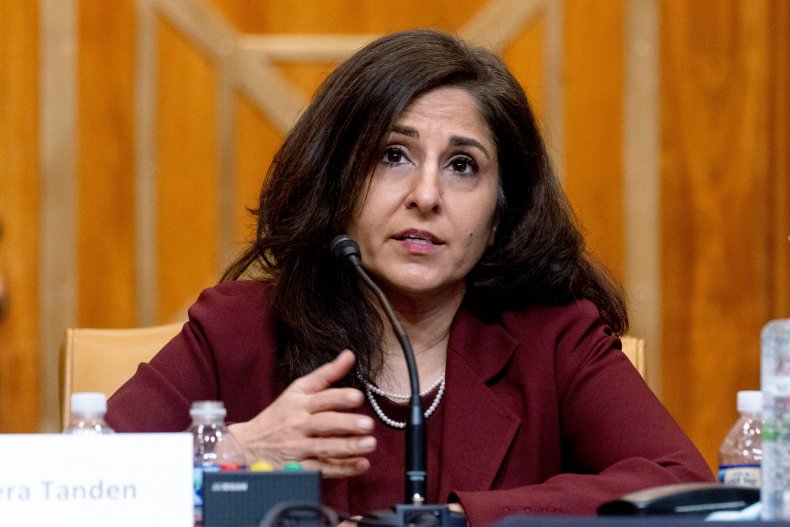 Earlier this year, President Biden nominated Tanden to be director of the OMB. However, she faced roadblocks in trying to get enough votes for her senate confirmation. As an outspoken Twitter user, Tanden had angered the edges of both parties by insulting them on social media.
Some of her controversial tweets, many of which have been deleted, came back to haunt her during the confirmation attempt.
"Just to mention a few of the thousands of negative public statements," GOP Senator Rob Portman of Ohio told Tanden during the hearing, "you wrote that Susan Collins is the worst, that Tom Cotton is a fraud, that vampires have more heart than Ted Cruz. You called leader McConnell: Moscow Mitch and Voldemort, and on and on."
She also tweeted a suggestion that Vermont Senator Bernie Sanders benefitted from Russian hacking during the 2016 election, saying, "Russia did a lot more to help Bernie than the DNC's random internal emails did to help Hillary."
Without the support of Sanders, and after Democratic Senator Joe Manchin of West Virginia stated his intention to vote against her confirmation, it became clear that Tanden had no path to victory, so she withdrew her name for consideration.
Biden then released a statement saying, "I have the utmost respect for her record of accomplishment, her experience and her counsel, and I look forward to having her serve in a role in my Administration. She will bring valuable perspective and insight into our work."
Tanden's new role as a senior adviser to Biden does not require any approval from the senate.