Neera Tanden's Confirmation Hopes Lie With Lisa Murkowski, Kyrsten Sinema After Grassley Says No
Neera Tanden's odds of being confirmed to lead the Office of Management and Budget (OMB) just got a little slimmer after another Republican senator voiced his objection to her nomination.
Senator Chuck Grassley of Iowa told reporters on Thursday that he would vote "no" on Tanden. His announcement came less than 24 hours after White House chief of staff Ron Klain touted the senator's indecision as an optimistic sign.
"We're fighting very hard for Neera," Klain told MSNBC's Joy Reid on Wednesday night. "We had Senator Grassley tonight announce that he's open-minded on Neera's confirmation. We've got other Republican senators we're talking to."
Klain added that they were "fighting our guts out to get her confirmed."
All eyes are now on GOP Senator Lisa Murkowski of Alaska and Democratic Senator Kyrsten Sinema of Arizona to save Tanden's confirmation. Democrats will need the two lawmakers to support Tanden in order to get her through the 50–50 party divide in the Senate. Both are still undecided on how they will vote.
Tanden, who would be the first South Asian woman to lead OMB, has been under fire over her past tweets and comments aimed at lawmakers. Democratic Senator Joe Manchin of West Virginia, another critical moderate in the split upper chamber, has opposed Tanden's confirmation citing her "overtly partisan statements."
Murkowski expressed concern about Tanden's social media history on Wednesday and was surprised to find a resurfaced tweet where Tanden attacked the Republican as being "high" on her "own supply."
"I suggested to the White House that my colleagues were being very critical of the statements, and rightly so and I think some of (the tweets) were clearly over the top," Murkowski told reporters, adding that she was trying to look at Tanden's "competence" in deciding whether to support her nomination.
"Apparently I'm going to have to do more looking into what she thinks about me," Murkowski added.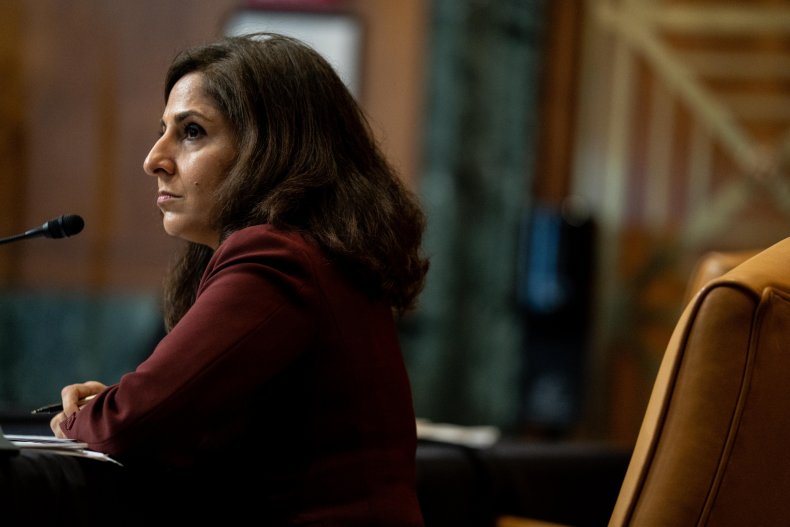 The White House has continued to publicly support Tanden, despite the mounting criticism from lawmakers. When asked about Tanden's inflammatory social media posts, press secretary Jen Psaki told reporters on Thursday that she apologized for her past remarks and would be joining an administration with "a high bar for civility and engagement."
But experts told Newsweek on Wednesday that Biden dragging out Tanden's nomination could cost him political capital with moderate lawmakers on both sides of the aisle whom he'll need to pass much of his legislative agenda.
While the Biden administration is still backing Tanden, there have been reports about finding a replacement. The three names being floated are Gene Sperling, two-time director of the National Economic Council; Ann O'Leary, who has ties to Hillary Clinton's campaign and served as California Governor Gavin Newsom's chief of staff up until late December; and longtime congressional aide Shalanda Young, who was already chosen by Biden as deputy director of OMB.
Newsweek has reached out to the offices of Murkowski and Sinema for comment on how they plan to vote on Tanden and Grassley's opposition.