Ohio Girl Writes 'Black Lives Matter' in Chalk, Neighbor Calls Police
A neighbor called police on a 9-year-old white girl in Ohio for writing "Black Lives Matter" on the street in chalk.
Mira Acklin had made the mural in front of her home in Canal Winchester last Wednesday.
"I think that black and white people they should be treated the same, and I wanted to show my support and how much I really care about black people," she told WBNS-TV.
Her mother Jenna Acklin said deputies from the Fairfield County Sheriff's Office arrived on the street later that day after a woman called to complain about vandalism.
Jenna Acklin said deputies told her family that they'd done nothing wrong and then spoke to the neighbor who had called them.
"He got out of the car and talked to her and said she had called and said there was vandalizing in the street and screaming," she told the station.
Jenna Acklin said her daughter was frightened by the incident.
"She said I've seen the police before, but they've never been coming to get me," she added to WSYX-TV. "I said you know honey as uncomfortable as you feel, you also have to know your friends and other people of color feel this fear every day, multiplied times one-million."
In a post on Facebook, Jenna Acklin said her daughter was "upset and scared," but she explained that the neighbor's actions are "an example of why we must speak up."
"Billie screaming 'This neighborhood is going to hell!' over and over again because my daughter wanted to show love speaks volumes," she wrote.
In an update on Facebook, Jenna Acklin again stressed the importance of calling out racism.
"As terrible as this series of events has been, we feel so blessed to be spreading the message BLACK LIVES MATTER!" Acklin wrote.
"The neighbor and her daughter's response to 3 chalked words… is not unique. The majority of folks online have been supportive, those who have not, are exposing themselves for all to see. Take note! Call out racism! It is our duty!"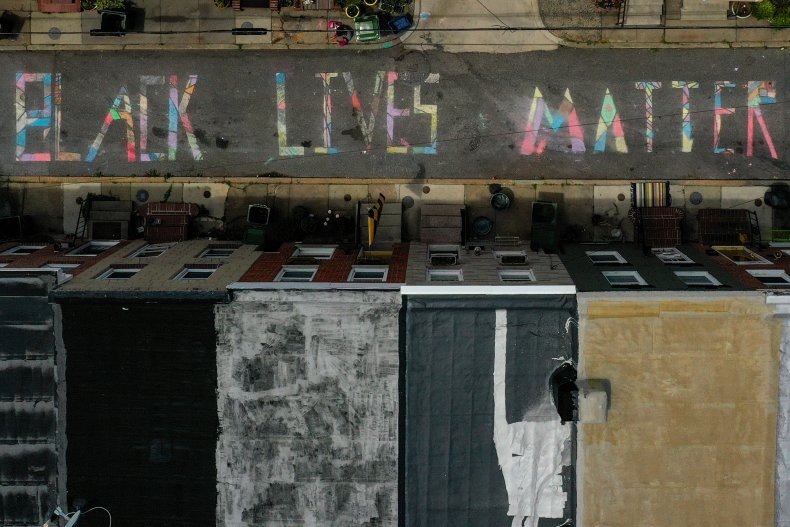 She added that sheriff's deputies had returned to her street at the weekend to make sure her daughter and her friends wouldn't be bothered while chalking.
She also thanked the sheriff's office for their support, singling out Deputy Minear who she said had been most involved.
"His calmness even when the neighbor's daughter was yelling at him is a shining example of de-escalation," she wrote.
"We support good law enforcement and Deputies Minear, Devoe, and D'Amore are shining examples of this! To see the need for reform, does not mean you do not support law enforcement. I want them to be safe. I want them not to be placed in tense situations because of racist calls. I want them to not have racist co-workers."
The incident comes amid ongoing protests against racism and police brutality across the U.S. sparked by the death of George Floyd, a Black man, in Minneapolis police custody a month ago.
Jenna Acklin and the Fairfield County Sheriff's Office have been contacted for additional comment.