'Neighbor from Hell' Lori Christensen Charged with Stalking After Years of Alleged Harassment
A woman described as a "neighbor from Hell" has been charged with stalking after years of alleged harassment.
Lori Christensen, a 57-year-old woman living in White Bear Lake, Minnesota, was charged with two counts of stalking last Thursday, according to MSN. She faced the charges for allegedly videotaping and harassing her neighbors since they first moved there in 2016.
Christensen allegedly videotaped her neighbors whenever they were outside or doing yard work, according to documents filed in the Ramsey County District Court. The neighbors said that Christensen cut their cable and internet lines. They also said that she had put a mannequin head on a stake on her deck. She would allegedly turn the head to face her neighbor's house when she was upset.
Her neighbors eventually moved out in 2019. Although a relative of the neighbors subsequently moved in, they too moved out due to Christensen's behavior, The Duluth News Tribune reported.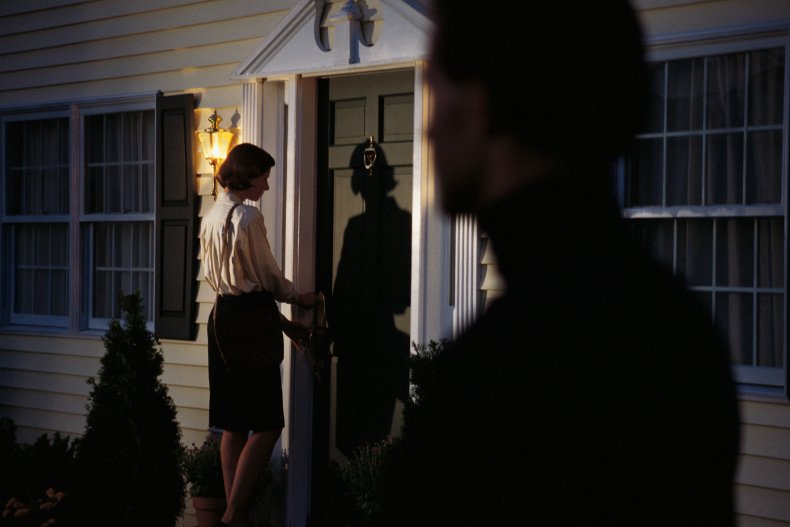 The neighbors said that she harassed a real estate agent and potential home buyers when they put their home on the market. Christensen allegedly threatened to call the police on their realtor because of how they had parked.
She also allegedly videotaped and yelled at potential buyers, telling them that the house had been previously inhabited by "meth users," according to MSN. As a result, the house has had no prospective buyers, a realtor said in court documents.
"She is not making that easy by trying to sabotage it by causing fear and intimidation in prospective buyers and their agents," a neighbor wrote in court filings. "We fear for our lives and for the lives of the renters and prospective home buyers and agents."
The neighbor wrote that the conflict has made them lose sleep. The conflict also made them start shaking and feel sick to their stomach whenever they had to face Christensen.
Christensen has said that her behavior is within her Constitutional rights to free speech. She said she videotaped her neighbors for security purposes and that she always remained on her own property. She also said that prospective buyers approached her to ask her opinion about the house.
Nevertheless, she was charged with felony stalking and gross misdemeanor stalking. She posted a $20,000 bond and will return to court on June 24.
In addition to her alleged stalking, the neighbors involved in the case also said that often shouted profanities and made insulting comments about their dogs and the owners' ability to control and care for them.
Christensen reportedly called and e-mailed police and city officials numerous times over the last 10 years. She reportedly told on her neighbors for storing items on public property, allowing paper trash to blow from their bins onto her yard, parking in no-parking zones, having a car with a flattened tire in a front driveway and for installing a fence taller than the allowed by city ordinance.
The neighbors claimed that in the past, Christensen had mocked a recovering alcoholic neighbor. She drove a remote-controlled toy car in front of the person's yard during a birthday party for their son and repeatedly yelled "Drunk driver!", MSN reported.
Several publications over the last decade, including the Tribune, have referred to Christensen as "the neighbor from hell."
Newsweek contacted the Ramsey County Attorney's Office for comment.