Neighbor Praised for Creating 'Dog Zapper 2000' in Response to Barking Pet
A man has been hailed as a "genius" for coming up with a unique invention in response to his neighbor's dog incessantly barking.
Jon DeMaria, thought to be from San Diego, shared his creation to his TikTok account, @stealthmedialive, as he revealed a dog, believed to be a German shepherd, lived next door.
Holding up a fob, he told the camera: "So my neighbor got a dog, and the damn thing barks non-stop. I mean I roll over in my bed, in my own room, in my own house, and this damn dog barks at me.
"So I went ahead and built this invention, the dog zapper 2000, have a look," he says while walking outside, continuing: "Fully self-contained unit, portable, fully remote controllable with a lithium ion battery."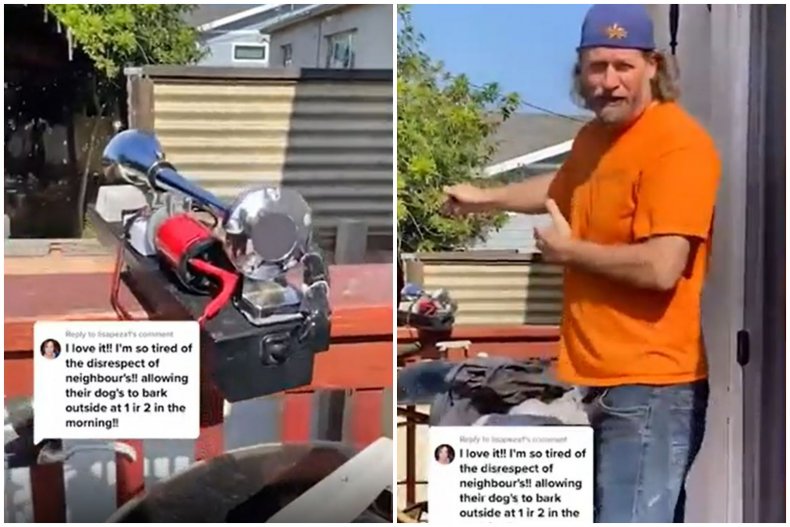 As he talks the dog barks, and DeMaria pushes the button, setting off a loud air horn.
The device is strapped to his balcony, facing the direction of the neighbor's yard, and as the dog continues to bark, DeMaria continually sets off the noise.
The clip was shared in March and racked up 1.7 million views. But it was first posted in October, and initially attracted 3.3 million views.
People were blown away by the inventive idea, as Stephanie wrote: "This absolute genius! I think we have the same neighbor, I want to know how I can purchase a Dog Zapper 2000."
Bjhj308 raved: "Dude, I so need one of these. It's for my own dog. She barks at everything! Put this on the market!" Baxter2.0 thought: "There is a market for this you could be rich."
Mamabear commented: "I love it!! I'm so tired of the disrespect of neighbor's!! allowing their dog's to bark outside at 1 ir [or] 2 in the morning!!"
Jeanne Anne said: "This might be a Learning tool to teach your neighbor's dog manners brilliant absolutely brilliant."
Marcie Robb admitted: "I wish I had that, the amount of times I would have 100 percent stooped to that level lol."
Kevinhoot chuckled: "I love it!! Give them a taste of what you have to hear when you move an inch in your own yard."
Dusty Marsh added: "I'd stay up all night just to honk at the people."
And Pandaknifer commented: "People saying it should be high frequency so only the dog hears it. Nah. If the owner can't hear it it's not working." To which DeMaria, who has his own "chill" dog described as a Pit Bull mix called Chloe, replied: "That's right."
But not everyone was on board with DeMaria's method, as Vivienne thought: "lf it's so bad... how does your neighbor sleep... you're punishing an animal... rather have it removed to a shelter... than torment it."
In a separate comment, referencing the neighbor's dog, DeMaria said: "It's sad because we know she is lonely. But there is nothing we can do."
After the clip originally blew up in October, DeMaria, believed to be realtor, shared more clips referencing the dog zapper 2000.
He shared several videos over the months, as he filmed the dog, named Zoe, barking at him as he looked out the window. He eventually met Zoe as he chatted to his neighbor, as the owner fed the dog treats.
As some people pointed out, dogs have a broader range of hearing than humans, which is why whistles and certain alarms are great for training, without annoying others.
The chart below, provided by Statista, shows popular dog breeds in the U.S.
The American Kennel Club (AKC) explained that canines' hearing ranges from 47,000 to 65,000 Hertz (hz). In comparison, the average human can only hear sounds up to 20,000 hz.
The AKC said: "This sensitivity to higher-pitched sounds likely explains several phenomena involving dogs. Rather than having ESP, dogs may predict earthquakes using their highly sensitive ears.
"And their ability to predict somebody's arrival at your door is likely due to their ability to detect the sound of a car before you can hear it, rather than any sixth sense.
"Finally, dogs can be so distressed by everyday noises, like a vacuum cleaner or power drill, because they sound louder to dogs than to humans. And dogs can hear high-pitched noises from these devices that we can't detect."
Update 5/23/22, 11:12 a.m. ET: This article was updated with video and screengrabs from @stealthmedialive.