Neighbor's 'Bold' Letter Leaves Internet Divided: 'This is Not a Junkyard'
In a now-viral post, a man said his brother received an anonymous letter from a neighbor calling his yard "trashy."
The man—an anonymous social media user, posting under the username u/ArnieismyDMname—shared a photo of the hand-written letter in Reddit's "Mildly Infuriating" forum. It has amassed over 48,000 upvotes and sparked a heated debate. You can view the photo here.
"Dear new neighbor," the letter began. "We have all lived in this neighborhood for, most of us, over 20 years. We all have meetings and talk to each other. We are happy [you're] here, but you already look like you don't care what your yard looks like. Swing sets belong in the backyard, and PLEASE remove that eyesore of a couch [from] the curb. Our neighborhood does not need to look like a trailer park."
The writer then told their neighbor that he should've thrown the couch in a "dumpster" during the move-in process, and said his yard looked "trashy."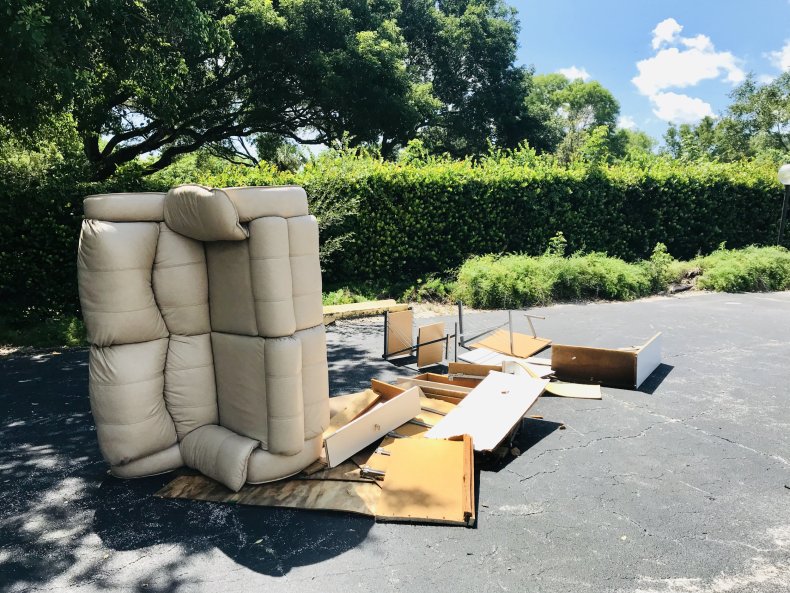 "Please be considerate of us who keep our yards trash-free," the letter concluded. "Remove the couch! This is not a junkyard."
u/ArnieismyDMname told Newsweek that the letter was sent anonymously "with no return address and no signature" and that the couch only sat in his brother's yard for two days. When asked if anyone else had commented on his brother's yard, u/ArnieismyDMname said the letter "was the only time" anyone has said anything.
Neighborhood Etiquette
Jodi RR Smith, the president and owner of Mannersmith Etiquette Consulting, told Newsweek that it's "not a good idea" to confront a new neighbor via an anonymous letter.
"If something [is] bothering you, the best thing to do is to bake a batch of muffins or some cookies or [grab] a bottle of wine and knock on their door," Smith said. "Say hello, find out a little bit more about them, share what you know about the neighborhood...then address [the problem] spot on."
Smith explained that when someone receives an anonymous letter, they might think the sender is "dangerous."
"There's something very nefarious about an anonymous letter," she said. "I don't like people to hide behind an anonymous letter when a grown-up conversation will do."
Regarding the actual contents of the letter, Smith also reminded homeowners that unless there are Homeowners Association (HOA) rules that state otherwise, people are free to do whatever they want with their yards.
"We are not always all going to agree on things, [but] we need to make things as pleasant as possible," Smith said.
Do you have a dispute with your neighbor? Let us know via life@newsweek.com. We can ask experts for advice, and your story could be featured on Newsweek.
Redditors React
Some Redditors agreed that the letter was in poor taste and slammed the person who wrote it.
"[They were] bold enough to write the letter but not bold enough to act like an adult," u/1Sluggo commented.
"Not very neighborly!" u/IHaveDoneThyMother64 said.
"Such nice penmanship and such awful grammar and manners," u/elleusesreddit wrote.
Others, however, saw nothing wrong with the letter.
"I'm mildly infuriated you have a swing set in your front yard. She's right—they belong in the backyard," u/johnwillywanker said.
u/Danzer420 added: "She's right. Don't be a f**king slob."
Newsweek was not able to verify the details of the case.
More Viral Posts
Redditors bashed a woman for demanding that her neighbor remove their doorbell camera.
A Mumsnet poster went viral after sharing that their neighbor charged them over $1,000 to fix a pothole in the street.
And commenters were stunned to learn that a person's neighbor tried to sell their misdelivered items back to them.